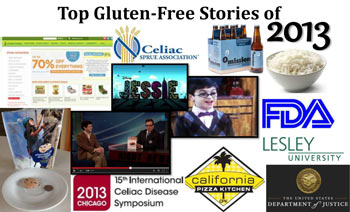 We had a lot of news happen in 2013…of course the gluten free diet trend was in full force, the FDA came out with its long overdue gluten free labeling rule, a second study showed arsenic in rice…but there were other stories out there too.
We want to hear from you:
We want to hear what you think the top story should be (see descriptions and links to articles for additional information on each story below).  Take these options  into consideration:
Impact on the gluten free community
Buzz-factor
Making news beyond the gluten free community (mainstream newspapers, television news, internet)
If you need a recap, just read the summaries below.  If you don't need a recap, then just take the 2-question survey.  If you don't see your favorite story listed here, you can list it in the survey separately:
There you have it.  The big gluten free stories of 2013.  Click here to fill out the survey and tell us where you think these stories rank in importance.  The survey will close at 11:59 p.m. on Monday, December 30.  I will post an article on Tuesday with the results!  Share the survey with your friends!
Tags: #ICDS2013, 2013, arsenic, celiac, Department of Justice, FDA, Girl Scout cookie, gluten-free, labeling, Lesley University, news, pizza, rice