It is a good day.  Disney Channel did the right thing late last night when it pulled its episode of Jessie.  
The episode depicted the stereotypical "nerdy" kid as being gluten free.  Then both kids and adults on the show picked on him for it. I wrote more in depth about the episodes contents  yesterday.  You can see that article here.
But this morning Disney Channel's Facebook page reported this.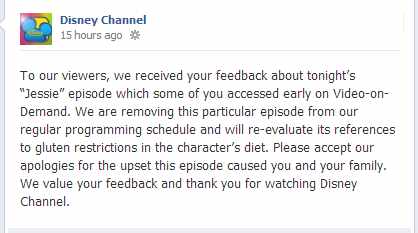 There are more than 500 comments from people both for and against pulling the episode.  Many of the comments are very harsh from people who are clearly uneducated about the issue.  If you want to read them you can do so on their Facebook page.
What I liked about Disney Channel's statement was that it was direct, apologetic and didn't make any excuses.  Thank you Disney for making the right decision.
Tags: celiac, Disney Channel, gluten-free