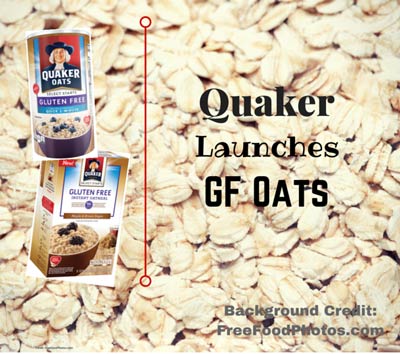 Admittedly late to the party, Quaker's new gluten free oatmeal line will debut nationwide this month.  It will be available under the Quaker Select Starts brand with Quick 1-Minute Oats and Instant Oatmeal in original and maple and brown sugar flavors.
In December, the company flew me and a few other gluten-free bloggers out to their headquarters in Chicago to learn more about the products.
To create its gluten free oats, Quaker is doing mechanical and optical sorting. That means, instead of purchasing oats from a farm that follows a gluten-free purity protocol, Quaker is buying traditional oats, and sorting out the offending wheat, barley and rye from the supply.  Remember, oats are inherently gluten free, but can be contaminated in the fields and harvesting.
You've heard about this sorting (aka cleaning) process before.  General Mills created a sorting facility and uses the sorted oats for cereals like their top 5 Cheerios brands and now Lucky Charms.  Cheerios has had big problems with its new product when it had to recall 1.8 million boxes because of gluten contamination at the plant in Lodi, CA.  General Mills maintains the recall was not because of contaminated oats.
You may think, as I did, that the timing doesn't seem all that healthy for launching a new gluten-free line with the Cheerios problems and General Mills pulling its Gluten Free Chex oatmeal from stores in 2015 and Gluten Free Rice Krispies stopping production, but when I asked, "Why now?" and whether, given the history of the aforementioned cereals, the company is setting itself up for failure, Quaker said it is "Absolutely 100% confident in this product."
"About two years ago the company came to us and asked us about working on gluten free", Alan Koechner, the Director of Global Milling and Development for Quaker said during our gathering on December 9th in the PepsiCo building in downtown Chicago.  He explained that when Quaker first ventured down the gluten free oats road back then, the team tasted and tested 3rd party certified, purity protocol oats.  The Quaker team said the oats didn't meet its standards: the oats didn't taste as good, and in its testing, it found the groats (a dehulled oat) contained barley.
Quaker's gluten free oats process
So Quaker came up with its own mechanical sorting process of traditional oats.  Koechner says they thought it would be easy, and it was not.  Here's how it works:
Truck arrives and the the oats are tested for gluten
The oats are put in dedicated silos for low gluten-containing grains
Then it goes through a cleaning/sorting process.  The sorting is based on length, density and color of the grains.
The oats are dehulled.  At this point the oats are tested again for gluten (see below for more details on their testing)
Then Quaker uses a kilning process on the oats.  The company explained that the thermal stabilization — stabilizes the groat (dehulled oat).  Testing of the product happens again.
And then the product is finished and  goes through its final testing of the product.  If at this point anything tests above 12 ppm, they discard the product.
Quaker's testing protocol:  The company says it tests to 12 ppm of gluten instead of the Food and Drug Administration's standard of less than 20.  After sorting and cleaning and again after the kilning process, the oats are tested and held.  Then they are released for continued gluten-free production if they meet the 12 ppm or less standard.  If they don't meet that, the oats are moved on for production in other Quaker products.   Quaker tests 3,000 40 gram samples per lot, or production run, (40 grams is equivalent to a single serving bag of oatmeal).
After the kilning process the aforementioned testing happens again, but also the product goes through what's called near infrared (NIR) technology to look for any stray gluten-filled grain as part of its single kernel inspection system.  The company says this technology "holds them accountable".  If you want more information about Quaker's testing protocol, please read Gluten Free Watchdog's detailed article on this.
Please note the lines on which Quaker produces this product on are not exclusively gluten free.  The company says it has a "strict and high standard" to clean these lines before production of the gluten free product.
Quaker says it has had "no fails", in other words, no samples that have come out over 12 ppm, since production of the gluten free product went to market.
Is it safe?
Here's what I will say about this.  I admitted in this meeting we attended in December that I heard the same confident spiel from General Mills just 7 months earlier about its process in creating gluten free oats for Cheerios.  And as a result, as I write this, it is hard for me to go to this one meeting and report back to the gluten-free community, that Quaker has done this right and that it truely is safe.  That remains to be seen in my opinion.
That said, Quaker is taking additional steps in testing their product in an attempt to ensure safety.  So I will give them that.
Here's the skeptic in me:  I worry that this won't be a success because let's face it,  the gluten-free community is already a narrow audience.  People who are eating gluten free for fad reasons, may or may not be purchasing gluten-free oats, I am not sure, but if they aren't worried about contamination, I would guess many are just buying regular Quaker oats.  As for folks who need to be gluten free for medical reasons, many are skeptical about the safety of mechanical sorting.  Anyone who is skeptical may not buy it and stay with the certified GF oats they already get.   So how many consumers does this leave you with?
In the end, we all need to choose what is right for us to consume.  Hopefully, this post, and others I have linked to within this post will help you decide if Quaker gluten free oats is right for you.
I am hoping my skepticism will be proven wrong and that there are no issues with the product and it has a long and successful life.  I have said before, I do think to innovate in the gluten free world, we need to learn from these new ideas to create even better, more healthful and safe gluten free products.  We'll see where this all leads us.
*Disclosure:  Quaker paid for my travel, hotel and meals while I was in Chicago.   I was not paid to write this post.
Tags: celiac, cleaning, contamination, disease, free, gluten, gluten-free, intolerance, oat, oatmeal, oats, purity protocol, Quaker, sensitive, sensitivity, sorting, symptoms