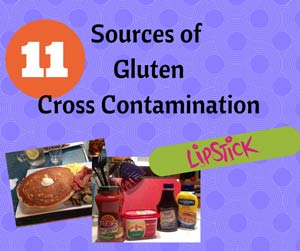 Living gluten free is about keeping gluten (found in wheat, barley and rye) out of your diet– whether you have celiac disease, a gluten sensitivity or have decided to eliminate gluten for other reasons.
It is weird how just a little bit of gluten can really cause trouble for people who need the diet for medical reasons.
You may work really hard and still not get all of the gluten out of your life.  Whether you live in a combination house (where you have gluten and gluten-free eaters) or you only allow gluten-free in your home, in no particular order, here are 11 sources of gluten cross contamination you should consider.  
Oats.  Yes, oats are gluten free, BUT they are often cross contaminated in growing, harvesting and processing.  So, for example, Quaker Oats isn't gluten free but Gluten-Free Chex Oatmeal and Bob's Red Mill Gluten-Free Oats are.  Click here to read more about oats in gluten free products from Gluten Free Watchdog.
Toasters.  When a doctor tells you you need to go gluten-free it means KEEPING the food gluten free and not contaminating it in the cooking process.  Toasters are a prime example. If you put gluten free bread, bagels, waffles, toaster pastries in the toaster that everyone else is using, your expensive gluten-free product is no longer gluten free. I have tried toaster bags.  They could work in a pinch if you are traveling.
Cutting boards.  Plastic and wooden cutting boards easily harbor gluten in the grooves left from the knife.  Keep cutting boards for gluten-free foods clearly labeled.
Butter, peanut butter, jam — any container or jar you stick a knife into.  Your mayonnaise may start off gluten free, but if you are sharing your house or apartment with someone who eats gluten, it just takes one accidental dip of the contaminated knife into the jar to render it unsafe for someone who is gluten free.  Tip: Products sold in a squeeze container help keep this from happening.
Restaurants.  They have a lot going on inside their kitchen, and in most locations– there is a lot of gluten to be found.  Bless their hearts to so many restaurants for trying to do a gluten-free menu, but without proper training (and sometimes even WITH proper training), you may very well get glutened.  That is the unfortunate risk we take when we don't prepare our own food.  
Potlucks and Buffets.  At church, school or work functions potluck dinners (where everyone bring a food item to share), or buffets brought in from another source are an efficient and usually less expensive way to serve food to the masses.  But it can be a haven for cross contamination:  gravy dripping into the mashed potato container, a pasta scoop used in the turkey warmer, someone grabs a bun and then grabs from the veggie tray.  It is messy.  The best way to get around this is to first, determine what is gluten free by doing your own sleuthing, and then second, go through the line first. If you are at a restaurant where they have an ongoing buffet, like for Mother's Day, ask to have a plate of fresh food made up for you in the back.
Sharing cooking utensils between gluten-filled and gluten-free foods.  When you live in a combo house, you have to be vigilant in using utensils only for certain foods.  When we do spaghetti night, I have a pot of regular spaghetti noodles and a pot of gluten-free noodles.  Our sauce and meat are all gluten free.  I have a separate utensil for each pot of noodles.
Separate colanders.  On the same note of noodles, we have a separate colander for gluten free food.  It can be hard to get pasta residue out of some of the crevasses of a colander.
Old pots and pans.  Do you have some pans that are really tough to get clean?  They may not just be seasoned….they could be harboring gluten.  Time for new pans.
Same frying oil or pasta water.  When a cook uses hot oil to deep fry a breaded chicken, shrimp or something else, and then goes to fry your gluten-free french fries…it causes cross contamination. Same with pasta water.
Kissing.  Yeah….Kissing someone who just ate gluten or if they use a gluten-filled lip balm or lipstick, are all additional possible ways to get cross contaminated.
Another thing to note, if you bake a gluten item and a gluten-free item in the same oven they shouldn't get contaminated (unless the food items spill or drip on each other).  That includes when food is baked in an industrial convection oven.  To learn more about this click here. 
An additional tip is when it comes to having separate items in your kitchen like utensils, toasters and cutting boards, pick a color for the gluten free items and go with it!  The visual cue that green means GF or red means stay away, will be helpful for everyone in the kitchen.
Cross contamination is something that can "nickel and dime" you into having reactions.  One way to keep tabs on it, if you have celiac disease, is to get your blood levels checked each year.  
Cross contamination is not an easy part of the diet to manage.  By taking the necessary precautions and asking questions at restaurants and other social gatherings, hopefully you will be able to avoid it and eat happily.
Tags: baking, celiac, cooking, cross-contamination, dining out, free, gluten, gluten-free, oats, restaurants, sensitivity