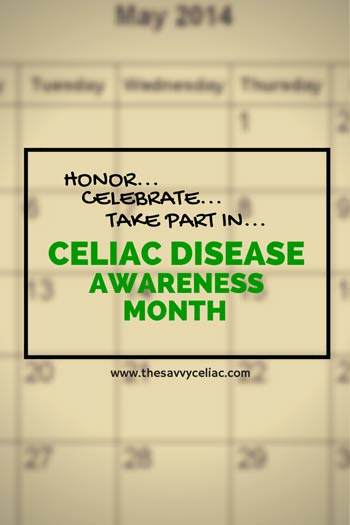 It's May!  And while it definitely doesn't feel like it here in Minnesota (20 degrees below average and this week had snow flying), it is Celiac Disease Awareness Month!  Time to spread awareness about all things celiac.  There are a few special things going on this month that people can get involved with in person or even from far away.
Celiac Disease Awareness:
1 in 133 Americans are estimated to have celiac disease and most don't know it.  It is a genetic, autoimmune disease. Raising awareness is key to getting people diagnosed.  Families, friends, doctors, neighbors all need to know about celiac because you never now when one of their friends, patients or family members might start having this nagging symptom that won't go away.   
Speaking of symptoms, the University of Chicago Celiac Disease Center says there are approximately 300 symptoms including the classic diarrhea and painful stomach, to the common like anemia and other symptoms you might not expect like constipation, osteoporosis, bad teeth, canker sores and infertility.  Some people don't have any symptoms at all.   The reality is celiac symptoms manifest themselves in different ways for different people. Which makes it difficult for doctors to diagnose.
The first step toward diagnosis is a blood test.  If that is positive you will likely get a biopsy to confirm.   Please don't go gluten free before getting the blood test because then you will have to go back on gluten for a period of time before you can get tested.  A lot of this and much more is spelled out in my free eBook, The First 30 Days Gluten Free. 
Honoring Celiac Awareness Month:
Here are a few things you can do this month to spread the celiac love. 
Donate to the celiac walks that are happening this month!  Syracuse, NY is up next with their event happening on May 3rd!  If you don't live in an area with a walk you can still donate. Money raised goes to the Center for Celiac Research. You can give back to these events by volunteering too! Click here to find out more. 
Sign up (and tell your friends to sign up) for the National Foundation for Celiac Awareness's free webinar  called Best Practices in Celiac Disease Diagnosis 
which is being held on May 15.
Donate gluten free food to a local food bank
The blog Gluten Away is creating a viral awareness campaign via social media.  Taylor Miller is asking that people tweet their  uplifting celiac stories under #positiveceliac.  
Read a book!  Dr. Fasano's new book Gluten Freedom is great.  But I learned a lot from Dr. Peter Green's book Celiac Disease: A Hidden Epidemic.  Shelley Case's book Gluten-Free Diet: A Comprehensive Resource Guide is also good!
Learn new tips and tricks for cooking gluten free right here on The Savvy Celiac.  Starting tomorrow and each Friday in May, I will profile a gluten-free blogger whose focus is on great gluten free cooking and/or baking.  We'll learn why they do it and some of their tricks to help you make fabulous gluten-free food. 
Enjoy the month and keep at it getting the word out about celiac disease.
Tags: autoimmune, awareness, C, celiac, diagnosis, disease, gluten-free, May, symptoms