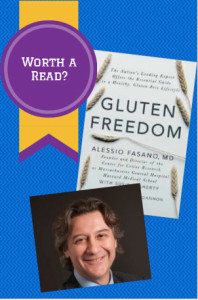 For years we have been hearing about and reading Wheat Belly and Grain Brain.  But now you can get the gluten-free facts straight from the man who investigated them, Alessio Fasano, MD.  He is the Founder and Director of the Center for Celiac Research which is based at MassGeneral in Boston.  Celiac disease and gluten-related disorders are his deal.
Whether you have celiac disease, a gluten sensitivity, choose to be gluten free or wonder if you have a problem with gluten, his new book Gluten Freedom is the best current resource for you.  
Gluten Freedom Review
Just a quick housekeeping note first, Turner Publishing sent this book to me free of charge to review.  It was definitely worth my time (and I am a slow reader).
The book is divided into four sections.  The first section talks about the research that has gotten us to where we are today as well as great information on celiac disease, gluten sensitivity, testing and more.  It also addresses so many common questions, for example: 
How can I tell if I have a gluten sensitivity?
Will a gluten free diet help my child with autism?
I am considering going gluten free, what should I do?
How will getting the gene test  help me (or my family member)?
I still feel sick even though I am gluten free, what do I do?
My symptoms are not in my gut, or I am asymptomatic, do I really have celiac?
How does autoimmunity play into all this?
And once you have a baseline knowledge, the middle two sections talk about lifestyle from experts who live gluten free.  Safe foods, a few recipes and some tricks of the trade by folks like Shelley Gannon (wife of former NFL Quarterback Rich Gannon, one daughter with celiac, Shelley and her other daughter have a gluten sensitivity), Jules Shepard (of gfjules.com), Pam Cureton (dietitian at the Center for Celiac Research), and Andrea Levario (Executive Director of the American Celiac Disease Alliance whose husband and son have celiac).
What do you do in school or college when you are gluten free?
Managing pregnancy and celiac disease
Traveling gluten free
Plus there are so many tales of people who were so sick because of undiagnosed celiac.  They were very sad, but also showed the vast difference in how celiac can manifest itself.  
The final section looks ahead to all of the possibilities in research.  Scientists are currently trying to figure out  how to detect when autoimmunity sets in.  This could not only help the celiac cause, but potentially all or many other autoimmune disorders.
I think this is a book you could take into your doctor's office to support your case to be tested for celiac or discuss the possibility of a gluten sensitivity (and that you're not crazy).  Dr. Fasano was involved in nearly all of the studies he cites in this book.
This book is for the layman.  But doctors who want to learn more about this topic absolutely could read it as well.  It is spoken in very plain, easy to understand language.  Plus the glossary in the back is great for when you forget with something like microbiome means (my own personal example here).
I think I would have liked an index that highlighted key words and then sent me to pages in the book.  But really that is my only criticism.  
This is a resource that as a blogger, journalist and someone keenly interested in this topic, I will carry with me often.  Sometimes it is hard to remember every detail all the time about the subject.  It is great to reference back to make sure what I remember and what he reports are the same.  I have already recommended this book to people who are searching for answers.  No matter where you are in your gluten-free journey, I think it could help you as well. 
The official publish date for Gluten Freedom is April 29, but you can already buy it on Amazon. All proceeds from the sale of this book go to the Center for Celiac Research. 
Tags: Alessio Fasano, anemia, autoimmune, celiac, Center, constipation, diarrhea, disorder, gluten, Gluten Freedom, gluten-free, intolerance, research, sensitivity