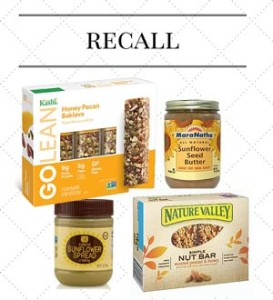 Listeria is running rampant this spring.  First, frozen vegetables and more recently, sunflower seeds.
Since the Listeria concerns over sunflower seeds was first announced in early May, you may want to call me "late to the party".  But I argue the mere fact that I have seen a handful of company recalls since Friday related to the sunflower seeds means that this outbreak, awareness of what Listeria is and how to prevent it, plus, both the veggies and many sunflower seeds are gluten free, means we should at least briefly tackle the subject here.
What is Listeria?
According to FoodSafety.gov, Listeria is "bacteria found in soil and water and some animals, including poultry and cattle. It can be present in raw milk and foods made from raw milk. It can also live in food processing plants and contaminate a variety of processed meats."  It thrives in refrigerator temperatures.
It is especially a problem for the elderly,  people who take anti-rejection drugs after getting an organ transplant, and those with weakened immune systems.
Are gluten free foods are affected with this recall?
Gluten free foods can be susceptible in this recall event, because sunflower seeds are inherently gluten free (although many can be contaminated with gluten during processing). In general, more foods are being added to the sunflower seed recall list all the time.
In early May, SunOpta, the seed supplier based in Minnesota, recalled the seeds when it found they may have been contaminated with Listeria. Then June 1st, the company announced in a second press release both good and more bad news.  Good: the production facility is back into production.  SunOpta's staff and external experts felt they had found the root cause of the contamination and, subsequently, increased safety testing.  The bad:  they expanded the recall.  There are no reports yet of people becoming sick from the sunflower seeds.
Just last week I shared this news on my Facebook page:  General Mills issues recall of 4 flavors of Nature Valley bars.  I was trying to understand which bars the recall were affected and sure enough I found them in my pantry!  The bars are all gluten free.  General Mills recommends you throw them out, regardless of when they were purchased and contact them for a replacement.
Below are a few more that popped into my inbox, just over the weekend. Keep in mind some of the products on the recall lists may or may not be gluten free.  I would just suggest you look at the products and check your pantry and take action according to the information provided by the FDA and the company:
To see the full list over more than 20 sunflower seed-related recalls since early May, click here.    This list will also contain other Listeria-related recalls, including the aforementioned frozen vegetables from earlier this spring.
Staying safe from Listeria
The best offense is to wash your produce well before eating, practice good hand washing and consume only pasteurized dairy products.
But that doesn't really help you when the product is in cereal or a gluten free protein bar.  So stay on top of this recall if you like nuts and seeds in anything.  If you are having symptoms, please contact your doctor and report it to officials.
Tags: bacteria, celiac, disease, food, free, gluten, gluten-free, Listeria, recall, safety, seeds, sunflower, symptoms