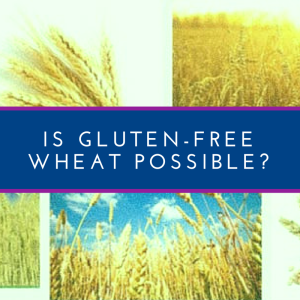 I actually love the headline from CBS News, Wheat tries to get in on the gluten-free food craze. Considering wheat is the culprit of most of the gluten in gluten-containing foods I would never have thought I would see this headline.
But it is true.  CBS News reports the Kansas Wheat Commission allocated $200,000 for the first two years of a project to "identify everything in wheat's DNA sequences that can trigger a reaction in people suffering from celiac disease…"
The research began last summer and they are looking at everything from modern wheat to what CBS calls the "wild relatives of wheat", by tapping into the repository at the Wheat Innovation Center in Manhattan, Kansas.
Is the fact that gluten free foods have put a dent in the wheat crop the reason for this move?  Well, one would speculate yes.  But the researcher on this mission says, it is something else. "If you know you are producing a crop that is not tolerated well by people, then it's the right thing to do," Chris Miller told CBS News.  Miller is the project's lead researcher.  She is also the senior director of research for Engrain, a company from Kansas that works with the wheat market.
This is not the first time wheat has been researched for people with celiac disease. About 18 months ago, The Savvy Celiac reported on a study looking specifically at the ancient grain Einkorn wheat and whether it could be tolerated by people with celiac disease.
In October of last year, we reported on a researcher in Italy who is trying to create a lower-gluten wheat.  And in January of 2011, research delved into Hydrolyzed Wheat Protein and it's potential for being safe for folks with celiac.
And then there is wheat starch.  Europe's gluten free market has used Codex wheat starch, which has been processed to remove gluten, for 10 years, Gluten-Free Living magazine reports.  The FDA allows for this in the gluten-free labeling rule.
I would be surprised if any of the pieces of aforementioned wheat research amounted to something that is truly safe for people with celiac disease.  In my opinion, even if the researchers successfully come up with something, farmers would have to grow it in dedicated fields and process the wheat in dedicated facilities, like certified gluten free oats are, in order to keep them celiac safe. Right?
What do you think about all of this research into wheat?  Would you try a gluten free wheat flour  if it were made?
Tags: celiac, disease, free, gluten, gluten-free, grain, research, safe, sensitivity, wheat