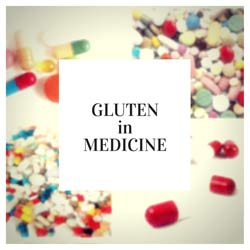 If you have celiac disease or a gluten sensitivity it's not only food you need to worry about when it comes to gluten content:  toothpaste, mouthwash, lip balm, lipstick, and over-the-counter and prescription medicines all can contain gluten and cause you harm.
In 2014, the Food and Drug Administration's gluten-free labeling rule went into effect– but that is specific to food labeling.  There is nothing on the books requiring gluten to be labeled (or the opposite, labeling when items are gluten free) in cosmetics or medicine.
I have had success finding gluten free labeled on some OTC medicines lately (like the Target Up&Up brand ibuprofen), but prescription medicine has always been a struggle.  And try and figure it out when your kid has strep or an ear infection in the middle of the night and you're trying to get a prescription– forget it!
The Wall Street Journal's blog reported Tuesday that a man is suing the FDA for inaction regarding gluten in medicine.  The lawsuit says back in 2008 Michael Weber petitioned the FDA to have them make a change so gluten either can't be in medicine or it must be identified as an inactive ingredient.  "Therefore, Mr. Weber seeks a declaration that the FDA has acted unlawfully by withholding action on his petition and an order requiring the FDA to act thereon," the lawsuit says.
Weber isn't asking for millions of dollars in this lawsuit, just that the FDA order a decision within 30 days of whenever the court rules on the lawsuit (plus, attorneys fees etc).
A spokesperson for the FDA told the WSJ the agency doesn't comment on pending litigation.
Rep. Nita Lowey (D-NY) and Rep. Tim Ryan (D-OH) co-authored a bill in 2013 that would require the source of grains in medicine. It was called the Gluten in Medicine Disclosure Act.  GovTrack.us reports now that this bill died in the last Congress when no action was taken on it.
I do think this is something that needs action on.  It is unfortunate that the bill died in Congress.  But maybe this lawsuit will help gain some momentum on the topic again.  I, for one, will be following.
Tags: celiac, disease, FDA, Food and Drug Administration, free, gluten, gluten-free, lawsuit, medicine, over-the-counter, prescription, sensitivity, sued, symptoms