There will be two kinds of gluten free Girl Scout Cookies for sale  in 2015!  This year the cookies are Trios and Toffee-tastic.
Trios are described on the Girl Scouts' website as "Chocolate Chips nestled in a gluten free peanut butter oatmeal cookie."  They are debuting in test-markets only this year.
Toffee-tastic is a butter cookie with toffee chips.   According to the Girl Scouts this one is "offered only in select Girl Scout council markets for as long as supplies last."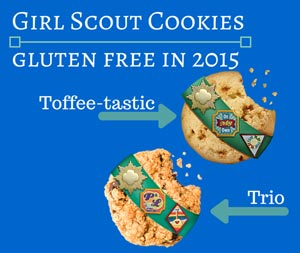 Last year, a shortbread-style, chocolate chip was test marketed in parts of the country.  It is good to see it expanded this year.   But I am not certain if you will see both options sold by any one local Girl Scout council.
In Minnesota, the Girl Scouts Minnesota and Wisconsin Lakes and Pines council (based in central Minnesota but extends to western and northern Wisconsin as well as Northern Minnesota) will be selling the Trios only.  Jess Hoffman from this organization explained via email how popular the gluten free cookies were in 2014, in particular with their council's celiac community, "Last year we had people calling from all over (including out of state) to get our gluten free cookie, because they wanted them but could not get them in their area."
The Girl Scouts of Minnesota and Wisconsin River Valleys council which includes the Twin Cities area, the Toffee-tastic gluten free cookie is the one that will be sold.
Some Girl Scout councils are also selling cookies digitally and can ship you the cookies.  This may be a good way for you to try a gluten-free cookie that might not be in your market.  The "Lakes and Pines" council seems to be doing the digital sales, but not the River Valley council.
Sales for the cookies usually begin in late January-early February.
Tags: celiac, cookie, cookies, disease, free, girl scout, Girl Scout cookies, gluten, gluten-free, toffee, trio