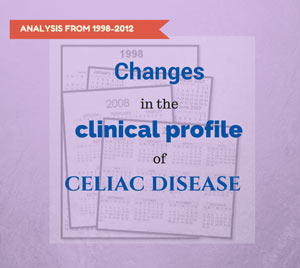 When my daughter was diagnosed with celiac disease, she had classic symptoms of diarrhea, vomiting, distended belly and weight loss. But for so many others, any of the estimated 300 symptoms in the repertoire of celiac disease, could be a sign of the genetic, autoimmune disease.
New research published in BMC Gastroenterology this week examines a span of 15 years of celiac diagnoses and found changes that have happened with the clinical profile of the disease.
The changing profile of celiac disease
The study, conducted by the Department of Medical and Surgical Sciences at the University of Bologna, St. Orsola-Malpighi Hospital, in Italy, examined records from 1998 and 2012.  770 patients were diagnosed with celiac.
79% (610) of the patients had symptoms at the time of their diagnosis.  About a third of those patients had classic symptoms — defined as malabsorption syndrome (according to the National Institutes of Health this is bloating, gas, bulky stools, chronic diarrhea, failure to thrive, fatty stools, muscle wasting and weight loss).  And about two-thirds had non-classical symptoms — including gastrointestinal symptoms (excluding diarrhea) and extra-intestinal manifestations like anemia and osteoporosis.
Researchers mentioned a dramatic shift worth noting:
Between the years of 1998 and 2007:
47.2% of celiac patients had classical symptoms
43.1 percent had non-classical symptoms
9.7% were considered sub-clinical a.k.a. silent celiac
But for patients from 2008-2012, classic symptoms were in the minority:
58.2% had non-classical symptoms
28.5% had sub-clinical symptoms
13.3% had classical symptoms
This new information lead researchers to say in the report, "Notably, diarrhea should no longer be regarded as the cardinal symptom on CD [celiac disease]".  In my opinion, it took so long for doctors to understand celiac was not a rare disease.  In 2014, many doctors are well versed on which primary symptoms signal celiac disease (like diarrhea) and now that is changing.  It is tough to keep up!
A few other facts from the study:
Osteoporosis/osteopenia was the most common extra-intestinal symptom with 52%.  Anemia was second with 34%.
Only 62% of the celiac patients had severe intestinal damage, 25% had partial intestinal damage
The autoimmune disease most frequently associated with celiac was Hashimoto's Thyroiditis
The study explains, tests that detect celiac disease early, before major symptoms set in, could be the reason for the increase in subclinical cases as well as the quarter of patients with only partial intestinal damage.
The study does not exactly spell out how this information might change the landscape in diagnosing celiac disease. So we will have to wait and see on that.  If you would like to learn more about all of the details in this study, click here to read it and check out the supplemental diagrams.  I think this topic is fascinating.
Tags: anemia, biopsy, celiac, celiac disease, celiac symptoms, diagnosis, diarrhea, disease, free, gastrointestinal, gluten, gluten-free, osteoporosis, research, symptoms, thyroiditis