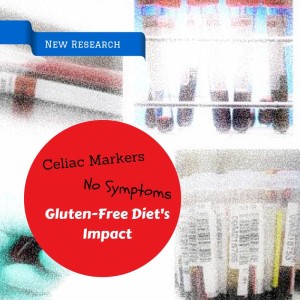 We have heard stories of folks who have some of the markers for celiac, yet don't appear to have any symptoms — or at least they don't think they have symptoms.
Now new research out of Finland and published in Gastroenterology set out to investigate a very specific set of markers for celiac disease and what those markers show, plus whether a gluten free diet helps.
What does a Celiac Blood Panel Test for?
Before we delve in, let's look at what the celiac blood panel tests for.  The University of Chicago's Celiac Disease Center's Antibody Blood Test Factsheet is a great resource in this area.  It says, 
"To help diagnose celiac disease, physicians first test blood to measure levels of certain antibodies. These antibodies are:  

The anti-tissue transglutaminase (tTG)  
The anti-endomysium (EmA)
 The anti-deamidated gliadin peptides (DGP).

A positive antibody test suggests that a person might be celiac, but it is not a conclusive test; a biopsy will be needed to confirm the diagnosis.  Your doctor may order one or more of the antibody tests indicated above (a "panel") to aid in diagnosis". 
This study looked specifically at the anti-endomysial antibody test, aka EmA.  The U of Chicago says this is a great test and very specific to celiac disase, "It is estimated that a person with an elevated titer of EmA has almost 100% chance of being celiac".  However, EmA is not as sensitive as the tTG-IgA.  The factsheet says 5-10% of people with celiac disease don't have a positive EmA.
Back to the study.
Celiac Markers, No Symptoms Research
The study was relatively small.  It looked at 40 people who tested positive in EmA screenings but reported no symptoms.  They were randomly put in two groups one was placed on a gluten free diet, the other was on a gluten-containing diet.  
Both groups were evaluated for "small-bowel mucosal villous height: crypt depth, serology and laboratory test results, gastrointestinal symptom scores, physiologic well-being, perception of health by a visual analog scale, bone mineral density, and body composition".  These were looked at before the trial started and again after one year.  Then the folks eating gluten, went gluten free for another year and were tested again.
What it found was "even apparently asymptomatic EmA-positive patients benefit from a GFD as measured by extensive clinical, serologic and histologic parameters."  In other words, researchers discovered the folks who ate gluten, and then went gluten free had improvement in their villi growth, serology (blood) test markers, and symptoms.  
What I continue to find interesting is that people report having no symptoms for celiac, but after getting a gluten-free diagnosis they notice things improving — these are symptoms they apparently just got used to.  "This randomized approach showed that subjects who thought they were asymptomatic experienced improvement…" the research said.  It added, "Patients may in fact have accepted mild symptoms as normal and recognized them as abnormal only later when on the [gluten-free] diet."
Scientists conducting this research believe the results of this study "support active screening of patients at risk for celiac disease."
One other note:  researchers said upon completion of the 2 year study, 92% of the subjects said they maintained the gluten free diet. 85% said they expected to remain on the diet in the future.
For more detailed information, you can read the research here. 
Tags: Antibody, asymptomatic, blood, celiac, diagnosis, diet, EmA, free, gluten, gluten-free, lifestyle, marker, panel, research, screen, screening, sensitive, serology, symptoms, test