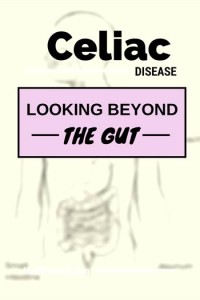 When you say celiac disease, most people think because they don't have diarrhea, they don't have celiac disease.  Even some physicians have this belief.  
BUT! That is not the case.  Recently at the Gluten-Free Living Conference in Orlando, Dr. Alessio Fasano, director of the Center for Celiac Research, talked about this very subject.  
5 Reasons to Look Beyond Gut Symptoms for Celiac
In no particular order, here are some very quick reasons why you and your doctor should look beyond gut symptoms for celiac:
1.  Non-gastrointestinal symptoms are the most common symptoms from late childhood well into adulthood according to Dr. Fasano.  Symptoms like Dermatitis Herpetiformis, tooth enamel issues, delayed puberty, osteoporosis, and anemia resistant to iron supplements. 
2. Anemia is the most common currently seen in celiac patients, according to Dr. Fasano's new book Gluten Freedom. 
3. Non-classic symptoms account for more than 60% of new diagnoses for celiac, Dr. Daniel Leffler of Beth Israel Deaconess Medical Center said at the International Celiac Disease Symposium in September 2013.  This is called silent celiac, in that it seems silent because it is not exhibiting the typical, expected clinical manifestations 
4. Only 1/3 of adults have diarrhea as a symptom before diagnosis.  Most adults also don't have weight loss as a symptom.
5.  There are more than 200 symptoms to look for– including that some people don't exhibit any symptoms at all.  The National Foundation for Celiac Awareness reports, "The undamaged part of their small intestine is able to absorb enough nutrients to prevent symptoms. However, people without symptoms are still at risk for the complications of celiac disease. See the University of Chicago's Celiac Disease Center's fact sheet on celiac symptoms here
I remember when Dr. Leffler talked about silent celiac at ICDS2013.  He said osteoporosis, liver disease and infertility were examples and added "silent celiac is silent until it's not".  Such a true statement.  
So now what do you do?
First take a look at the symptoms listed on the Chicago website or you could take the Celiac Disease Foundation's symptom checklist.  
If you are suspicious, think you have symptoms or if you have a first-degree relative who has been diagnosed, you should ask for the celiac panel from your doctor.  It is a simple blood test.  Click here for information about the tests involved.  If it is positive, a biopsy will be performed to confirm the diagnosis.
Many, many more details on all of this topic can be found in the book Gluten Freedom which becomes available in May.  Watch for a book review coming soon.
Tags: asymptomatic, celiac, diagnosis, disease, gluten-free, silent, symptoms, test