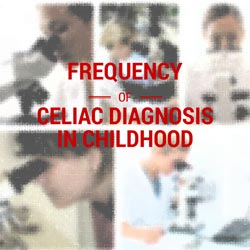 New research out of the United Kingdom reports childhood celiac disease is diagnosed more often in affluent areas than in poor communities.
Although not much of a shock, the study published in the Archives of Disease in Childhood-BMJ this week looked at the medical histories of more than 2 million children between 1993 and 2012.  It found "the rate of diagnosis being 80% higher in children from the least-deprived areas than in those from the most-deprived areas."
But, interestingly, they also found that childhood celiac diagnoses over the age of 2 "have almost tripled over the past 20 years," the report says. Eurekalert.com described it this way, "The diagnosis rate for coeliac [sic] disease in 2008-12 among children was 75% higher than it was in 1993-97."
The study didn't focus on the higher numbers in recent years, but rather on socioeconomic status of the children who were diagnosed.
The study questioned the reason for the significant difference in low and high socioeconomic status and diagnosis of celiac disease.
Reserachers wondered about whether:
there is better understanding of celiac disease in more affluent communities
people in different socioeconomic groups are exposed to different risk factors which may indirectly contribute to celiac
the timing of breast feeding and introduction of solid foods had an impact
the "hygiene hypothesis" was the reason?  Where decreased exposure to bacteria or toxins to the children in less-deprived communities "causes an immunological over-reaction at the time of a subsequent antigenic contact, that is gluten in the case of CD"
diet plays a role
Researchers don't have answers to all of these questions at this time. and discounted many of them.
In the end, they concluded, "the most plausible explanation….is that ascertainment of disease varies rather than the true occurrence of CD". Clear as mud?  Medscape put it this way, "The researchers attribute the difference in celiac disease diagnosis rate to greater opportunities for diagnosis among the well-off."  Basically that those in poorer communities have less access to healthcare.
"Awareness campaigns and the implementation of diagnostic guidelines may help to implement strategies for case-finding in all children and reduce this inequality," the research said.
Tags: affluent, biopsy, celiac, child, childhood, diagnosis, disease, free, gluten, gluten-free, poor, research, socioeconomic, test