Well we are getting so close to Thanksgiving!  With the snow that has fallen in Minnesota so early in November- I have have been in the holiday spirit a bit earlier this year.
With just nine days before the holiday,  you'll want to get to the grocery store and plan your meal. Here are some helpful tips and events that could assist you in having a great gluten free Thanksgiving and holiday parties.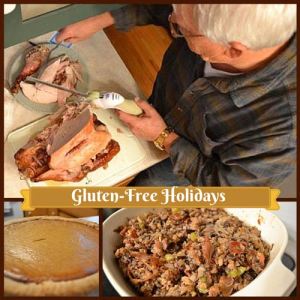 Gluten Free Thanksgiving & Holiday Season Info
Stuffing…stuffing….what to do about stuffing?  This main staple for Thanksgiving can be labor intensive and most of the time, it relies heavily on gluten-containing ingredients.  We have some options for you:
Here is a recipe for a homemade stuffing made by Heidi Kelly at Adventures of a Gluten Free Mom.
I also posted my mom's wild rice dressing recipe which requires no bread and is full of flavor. Last year I did a taste test of new stuffing mixes on the market which you might find helpful.

Celiac Disease Foundation has an Ask the Dietitian webinar Wednesday, November 19th, where they will be involved in "Turkey Talk".  Join them for your Thanksgiving and holiday-related questions tomorrow afternoon from 12-1 Pacific time.  Click here to get it on your calendar.
Make cooking and shopping easier with this Gluten Free Thanksgiving pack from gfJules.  It has her baking mix, a bread mix, corn bread mix, pie crust/gingerbread mix, plus her gluten-free Thanksgiving e-book. This is under $40 and there is free shipping when you use the code on the link. If you are interested, you must order by end of day today to guarantee arrival in time for Thanksgiving.
Cooqi Gluten Free has its pop up stand in South Saint Paul, MN next Tuesday, November 25th, but you have to pre-order!  Click here for more information on this latest event.
Don't need to buy gf Jules Thanksgiving pack, but want her Gluten-Free Thanksgiving e-book, you can purchase that on her website.
Plus, Danielle Walker's Against All Grain e-book Thankful has gluten-free, paleo recipes for the Thanksgiving holiday.
Don't forget, as you start your holiday baking, Glutino rolled out its four new holiday mixes this year.
Other tips:
Make sure you buy a gluten-free turkey.  They can be injected with a broth or stuffed with a stuffing rendering them unsafe.
Don't buy a gluten-free turkey and then stuffing it with gluten-filled stuffing.  Again, it would contaminate the turkey.
I make a gluten-free cornbread for our table each year.  This way guests who are not gluten free don't miss the bread! I like Bob's Red Mill.
Thanksgiving should be a wonderful time with your family and friends.  Worrying about the gluten ingredients in food shouldn't be a part of that. Best of luck and Happy gluten free Thanksgiving!
Tags: cookies, dinner, dressing, food, free, gluten, gluten-free, holiday, party, pie, stuffing, Thanksgiving, turkey