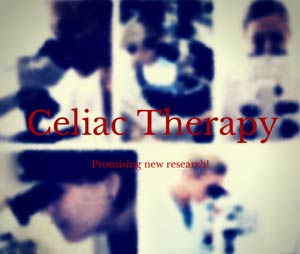 The gluten free diet (no wheat, barley, rye) is the only treatment for celiac disease.  But many companies and researchers are investigating and doing clinical trials for different treatments for people diagnosed with celiac disease.  
In the last few days Joseph Murray, M.D. from the Division of Gastroenterology and Hepatology at the Mayo Clinic offered an update on the testing of larazotide acetate. Murray is quoted in Gastroenterology and Endoscopy News' report that the latest clinical trial findings showed "significant symptom reduction in celiac disease".
Larazotide acetate is being created and tested by Alba Therapeutics. The drug would be a treatment to help lessen symptoms of celiac when accidental gluten ingestion happens.  It is not a vaccine nor a cure, but rather more of a maintenance treatment to coincide with the gluten-free diet.  
When tight junctions in the small intestine are compromised, as they would be in someone with undiagnosed celiac disease, it allows gluten to seep through and cause the autoimmune response.  The new results in the testing showed Larazotide is closing up those tight junctions, thus reducing the damage to a person who may have accidentally ingested gluten.
The article explained that a 0.5 mg dose three times a day improved diarrhea, indigestion, abdominal pain, headache and tiredness.  In fact the report says the drug "increased the proportion of patients who reported no or very few symptoms by 31%".   The report also indicated that there was a 26% reduction of days with severe celiac symptoms, compared to the placebo group.
The one primary unknown for researchers right now is why increasing the dosage doesn't increase benefit.  
Again, this therapeutic option is still in the trial phase.  Funding for this study was provided by Alba Therapeutics. If you would like to read the full story, you can access the Gastroenterology & Endoscopy News article here.
Tags: celiac, disease, drug, free, gluten, gluten-free, pill, research, therapy, treatment