One of the most popular restaurant food items is pizza.  Some restaurants really take to heart the concerns about cross contamination.  Others really don't get it, purchasing a gluten-free crust, and cross contaminating it with shared sauce and ingredients — and then upcharging us for it.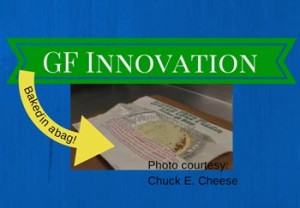 According to Bloomberg BusinessWeek,  a Stephen Hughes, chief executive of Boulder Brands, which creates Udi's Gluten Free and Glutino brands said in an earnings call Thursday that they are working on a way to, not only reduce the risk of cross contamination, but actually make creating the pizza and cooking it a no-brainer for restaurant staff.  It involves baking the pizza in the bag.
"If you go to a lot of pizza chains today, I mean the economics of this are pretty interesting. Because they're up-charging the pizza—the gluten-free pizza crust $1, $2, $3 per pizza crust—per pizza. And they're saying, 'This is gluten-free pizza crust,' but it's being cooked in a gluten-full oven. … Changing things in those restaurants—across 1,000, 2,000, 3,000 restaurants—is challenging."

"It's kind of a bake-in-bag, so it goes in and never is exposed to the [gluten] in the kitchen or in the oven." — Stephen Hughes quotes courtesy of Bloomberg BusinessWeek
While it doesn't say it directly in the article, it must be a pre-made pizza if it is never exposed to the kitchen.  The product is still in development.  
Chuck E. Cheese Baked-in-Bag Gluten-Free Pizza
But while exciting, let us not forget that the general idea is not new.  Chuck E. Cheese has been offering a gluten-free, baked-in-the-bag pizza for about two years!  The entire pizza is baked in the sealed bag and brought out to the table — still in the bag, where it gets opened by someone at the table with a cutter exclusive to gluten-free.  
This pizza pictured at right from Chuck E. Cheese's Facebook page is made in Conte's Pasta's  gluten free facility in New Jersey.
Chuck E Cheese put this video (below) out when it was in the test market phase in Minnesota.  It demonstrates how the bag-baked pizza works and the standard process they employ to keep the pizza as safe from cross contamination as possible.
Now the pizza is in 500 locations in the US and Canada.
The restaurant chain also has a prepackaged gluten-free chocolate cupcake made by Fabe's All Natural Bakery.
Such a bummer our family sort of aged out of the CEC party/meal thing by the time this pizza and cupcake debuted.  This would have been a GREAT option when we had to go there for all of those school fundraisers in elementary school.  
Either way, it is good to see companies trying to help solve the problem of cross contamination for people with gluten-related disorders but also make the process easier for restaurant staff.  
Tags: celiac, cross-contamination, dining, eating, food, free, gluten, out, pizza, restaurant, safe, sensitivity