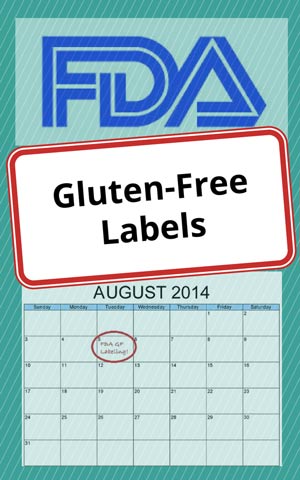 Okay, so I know it's not a national holiday or anything…but today is a day on which to take note! The Food and Drug Administration's Gluten Free Labeling Rule goes into effect today!  After years of working and waiting…it is finally here…
I have already done a lot of articles on this subject …so I would like to take this moment and make today's post more of a reference and resource guide for you to learn more about the labeling and how it could affect your gluten-free eating.  
These are great, reliable resources from which you can learn a lot!  If you want to see The Savvy Celiac's posts on the subject they are at the bottom:
The Savvy Celiac has covered this topic as well
It will be interesting to watch and see what changes and what stays the same, where the consumer frustrations and celebrations lie.  This labeling is a great first step and we look forward to more information on restaurants and fermented products and beverages.
Let us know what you think about the gluten free labeling!  Happy shopping!
Tags: FDA, food, Food and Drug Administration, free, gluten, gluten-free, label, ppm, products, shopping, voluntary