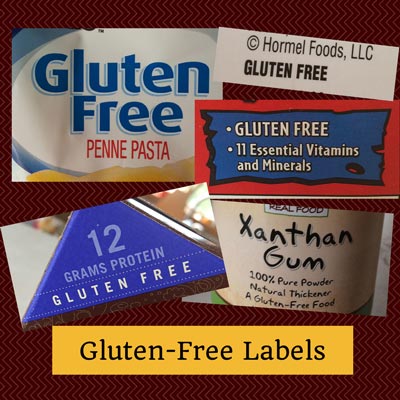 Today the Food and Drug Administration took action issuing a "Small Entity Compliance Guide" for companies that want to label their products gluten free.  In just about 6 short weeks, the gluten free labeling rule will go into effect in the US.  
While most companies who currently use gluten free labels  are  likely pretty clear in how the rule will affect them by now, this compliance guide is a easy reference on the subject.
The announcement by the FDA explains:
"The Small Entity Compliance Guide as required by the Small Business Regulatory Enforcement Fairness Act of 1996. The guide covers the key requirements of the regulation, including food products subject to the rule; the definitions of the terms "gluten" and "gluten-free"; and when FDA considers a food labeled "gluten-free" to be misbranded."
Here are the very basic points to remember with the FDA's gluten-free labeling rule:
This is not required labeling.  If a company wants to label a product gluten free, then it must follow the FDA's guidelines
If a product is labeled gluten free it must have less than 20 parts per million of gluten
Rule becomes official on August 5, 2014
It is a very quick, uncomplicated read that discusses in detail the "points to remember" listed above, plus what is an acceptable use of gluten free labels and what could happen if a company is not in compliance.  It also discusses how companies could manage the gluten free claim by testing the ingredients or getting certificates from suppliers regarding gluten analysis.  But those suggestions are not requirements. 
This week I spoke with Arthur Whitmore who works in Communications with the Office of Food and Veterinary Medicine with the FDA.  For consumers, when it comes to shopping at the store, he says we won't notice any big change come August 5th.  "Any products labeled on or after that date must meet the rule's requirements," Whitmore said.  
If a product is labeled prior to that date, it can remain on the shelf. "However, most products marketed as of today, the FDA believes to be in compliance with the less-than-20-ppm requirement of the rule…FDA does not have any indications that products currently bearing the claim are out of compliance with the new rule." (*see additional note below)
Even though this is the first foray into regulating labeling of gluten-free products, the gluten free claim has been around for several years.  Whitmore dosen't believe that companies that once called a product gluten free will remove their label based on the new FDA regulations.  "The guidelines do not impose burdens on manufacturers so difficult that they would cease consideration of gluten-free claims on their products that meet rule requirements."
As for gluten-free menus and foods at restaurants, Whitmore said the "FDA is exploring ways to more directly address claims made by restaurants." But would not go into it any further.
Whitmore also says they are not getting inundated with questions from companies or gluten-free consumers about how the rule will work on store products.  A Q/A published on the FDA's website when the announcement came out nearly a year ago, has helped answer questions and concerns.  Plus this new compliance guide will help manufacturers.
The FDA is asking for public comment on this compliance guide starting  June 26, 2014. All comments should be identified with the docket number FDA-2005-N-0404. 
Click here to submit an electronic comment.  
Want to send your comment via US Mail? Send it to:
Division of Dockets Management (HFA-305)
Food and Drug Administration
630 Fishers Lane, Room 1061
Rockville, MD 20852.
*Note: Although Whitmore said they don't know of products that are out of compliance, Tricia Thompson of Gluten-Free Watchdog reminded me of the the couple of cases she is working on and has notified the FDA about: Good Grains Pearled Barley being mislabeled gluten free  and Bart and Judy's Gluten-Free Chocolate Chip Cookies which recently tested over 20 ppm of gluten in a Gluten-Free Watchdog test. 
Tags: celiac, compliance, FDA, Food and Drug Administration, free, gluten, gluten sensitive, guidelines, label, labeling, labels, product, products, small entity compliance guide