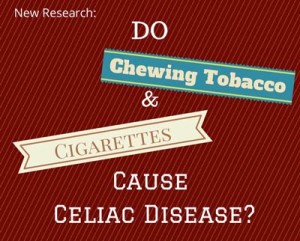 New research out this week from BMC (BioMedCentral) investigates smoking and celiac disease onset in adults and/or use of snuff (chewing tobacco) and celiac.
Researchers know that people with celiac disease need the HLA DQ2 and/or DQ8 gene to have the chance of getting the autoimmune disorder.  Plus we have to consume gluten.  But the third factor is the environment or something that triggers the celiac.  That's where researchers believed it was worth checking into tobacco (smoking and chewing).
Smoking contributes to other inflammatory disorders, the research says, including crohn's disease, but "…for a number of gastrointestinal disorders the association [between smoking and inflammatory disorders] seems to be protective, e.g. ulcerative colitis…" 
I reported on two pieces of research in this area in 2011, which did state that smoking seemed to delay the onset of celiac.  
This new study, overall, concludes there is no correlation between smoking cigarettes or using chewing tobacco and prompting the onset of celiac disease (CD).
Smoking, Chewing Tobacco and Celiac
The study out of Sweden was a good size, beginning with more than 300,000 people.  In the end, 656 people received a biopsy-verified diagnosis of celiac disease.  Of that 656 group, 488 of them said they smoked and 310 said they used chewing tobacco.  Researchers said whether you were a smoker (moderate or heavy), non-smoker, or chewed tobacco, there was no association between smoking, chewing tobacco and celiac disease.  
However, because of a few limitations in this study, researchers did admit they cannot "rule out a minor inverse or positive association between CD and smoking due to limited study power."
It also reported, "Smoking influences the immune system and more specifically may decrease the intestinal permeability.  This could potentially protect against gliadin exposure and risk of CD."  If smoking does protect the against small intestinal inflammation, the researchers say it is not solely because of tobacco smoke since the risk for getting celiac was the same among both smokers and chewing tobacco users.
There is a lot of detailed information about the study on smoking and celiac when you read the full report here.  
Tags: celiac, chew, chewing, cigarettes, disease, risk, smoke, smoking, tobacco