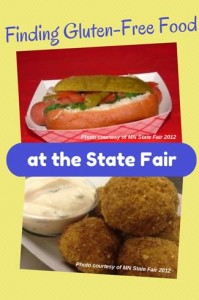 I am writing this piece to go with my Minnesota State Fair article today…because even though our fair has a great gluten-free food vendor list, if I do say so myself. There are others out there as well and we need to spread the word.
For the last several years the local Northland Celiac Support Group put this list out and manned a booth at the Fair to give fair-goers a great experience trying new foods and having fun with their families.
Now, The Savvy Celiac is helping lead this up for 2014!  Click here to learn more about that.  
But the State Fair of course doesn't just happen in Minnesota.  Did you know other states are publicizing gluten free offerings now too?
Below is a listing of previous gluten free lists or articles about upcoming or recent state fair gluten-free options.  The fact that state fairs are moving in this direction not only helps you enjoy your own state fair, but spreads awareness to others.
Even if you have a list, you still need to ask questions of the vendor on the process of making your food and any cross contamination concerns you might have. The list is more of a guide to help you narrow your search.  
Finding state fair gluten free food
If you are venturing to the state fair on your own, without a recommended list, make sure you remember that anything deep fried likely has a breading on it or is fried with something that has a breading on it which renders it unsafe in the gluten-free world.  Cheese curds and corn dogs likely aren't going to be for you.
Look for real foods (I know that is difficult at a state fair). The roasted corn on the cob at the MN state fair is GREAT!  Turkey legs are also very common and with a few questions of the vendor, you may find it is safe to eat. Ice cream and frozen yogurt may also be options.
If you know of a State Fair not listed here that has gluten-free options, feel free to share them below.  
Tags: celiac, fair, free, gluten, gluten-free, Indiana, iowa, new york, state, state fair, texas, washington, wisconsin