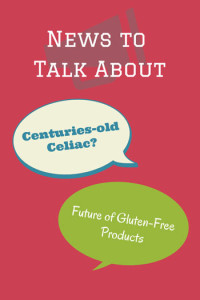 A few newsy items of note that came out late last week.
One story talks about a- discovery linking celiac and humans centuries ago.  The other recaps a "meeting of the minds" on the gluten free marketplace, where it stands and where it's going.
Gluten Free Food Trends
Recently, FoodNavigator-USA conducted a webinar with celiac and gluten free experts on the state of celiac and the products that help us manage the disease.  Alessio Fasano, M.D. from the Center for Celiac Research and Treatment in Boston was the voice of celiac and gluten sensitivity research; , David Sheluga, PhD, Director of Commercial Insights at ConAgra Mills; TJ McIntyre EVP, Natural Products, Boulder Brands; and Tom Vierhile, Innovation Insights Director at Datamonitor all spoke in their various areas of expertise.  

The discussion mostly surrounded the gluten free market trend  and where its going.  Sheluga of ConAgra Mills said the estimates that put the gluten-free product purchasing into the multi billions of dollars are just too high. "To hit 4.2 billion, 90 percent of the households in America would all  have to buy 10 of these gluten free products at a going rate of $3.80 — which is the average price," Sheluga said. "Did 90% of us buy 10 of these products in the same year? Probably not."
In 2012, he said the gluten free industry topped out more like $831 million and in 2013, it increased to $1.2 which was a a 47% increase.  He says with that kind of increase..the gluten free food trend still has legs.
TJ McIntyre agreed.  His company, Boulder Brands owns Udi's and Glutino. When they do data analysis, they look at the market's dedicated gluten free brands.  He says grocery stores are giving gluten free products more shelf space. "In Neilsen, the latest 12 weeks, there's a 20% increase versus a year ago of dedicated gluten free brands' shelf space that's granted to those different brands (Udi's, Glutino, Bob's Red Mill, Schar, etc)…. that availability we believe is going to continue to increase and that's going to be a key driver in growth in the years to come."
Quoting a Packaged Facts report from 2012 where it stated 35% of those surveyed deemed gluten free products as healthier and it was the number one reason for people to purchase the products, the moderator asked Sheluga who the gluten free consumer is.
Sheluga said surveys like  this one and others, including one from his company ConAgra Mills, are actually misleading us about the size of the gluten free audience.   "We followed up with in-home interviews with many of these consumers who had this answer pattern in our survey  [regarding avoiding gluten or buying gluten free products] and what we found…was that 1. they had no gluten free products in their home, 2. no awareness of gf products and when we showed them the products they had no intent to buy such products," said Sheluga.
"When you unraveled what they were saying, these people were saying 'Yeah, I wanted to lose some weight so I started to avoid bread and bagels, donuts and muffins.' Or 'I wanted to eat in a healthy manner so I started to avoid or cut down on bread and donuts and muffins'. They only had a vague connection that there was gluten in these products…yeah they were avoiding gluten but that was not their primary purpose," Sheluga said.
There is more to the webinar.  You can read a longer recap by clicking here.  Or listen to the 60 minute discussion for yourself.  
Discovery: Celiac Centuries Old?
A new report in the American Journal of Physical Anthropology and also reported by GeekoSystem.com found the remains of a woman at an archaeological dig site  on the Tuscan coast of Italy.  They found her 2,000-year-old remains entombed with jewels (which indicates she was wealthy), but at the same time exhibited signs of malnutrition and osteoporosis.
DNA taken shows that she carried two copies of the gene variant for celiac.  Researchers believe that with her DNA and evidence of severe malnutrition, she may have been one of the earliest people to exhibit celiac disease. Although the gluten free diet treatment for celiac wouldn't be known for centuries, further research on the carbon and nitrogen isotopes in her bones (and compared with other remains from later time periods) indicate she had a diet high in fish and meat, compared to others. 
Researchers wonder if she may have changed her own diet to alleviate symptoms.
Tags: anthropology, archaeology, celiac, food, future, gluten, gluten-free, history, market, products, trend