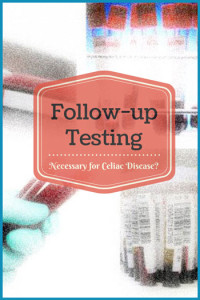 You got your diagnosis of celiac disease! That actually is an exciting thing (even though you may not think so right now) because 1 in 133 Americans have celiac, but between 83%* and 97%** are undiagnosed. That is more than 2 million people!
Celiac is an autoimmune disease, in which the body starts an all-out assault on itself when gluten is consumed.  It flattens the villi in your small intestines, which are key in grabbing nutrients from your food.  This causes serious malabsorption of vitamins and minerals and leads to symptoms that include diarrhea, constipation, fatigue, anemia, vomiting, infertility, osteoporosis and even lymphoma (and many more). 
So by getting diagnosed and going gluten free (the only treatment), you hopefully feel better.  But what's next?
This brings us to Jodi's question she asked recently about getting follow-up tests after celiac diagnosis on The Savvy Celiac's Facebook page.  She writes:
"Once you've been diagnosed and have been [gluten free], do you still get the blood test done each year? I've heard yes and no on this so I'm wondering what's right? I was told yes – to make sure you've eliminate the gluten, and no – once you're diagnosed and have changed your lifestyle you're fine."
Thanks for asking Jodi.
Follow-up Tests after Celiac Diagnosis
I can tell you Emma gets the blood test every year at her "well-child visit"/physical.  These results help her doctor and her know that she is doing well, staying healthy and making good choices.  Her antibodies would be elevated if she were cheating or accidentally getting gluten somewhere.
Emma would likely know if she accidentally got glutened, she has gut pain other GI symptoms within about 4 hours of ingestion.  But some people don't get symptoms, which may be one reason why the University of Chicago's Celiac Disease Center also recommends blood rechecks and follow up visits. There is a lot to learn about the gluten free diet in those first few years — little nuances like watching for gluten in salad dressings, soy sauces, communion wafers and lipstick!  Getting follow up testing should be able to tell if you are getting gluten somewhere and you don't realize it.  
Follow-up testing allows doctors to gauge whether you are healing properly.  If you don't heal, you'll continue to be sick which could lead to more celiac-related symptoms.
So what should you do for follow-up testing?  The U of Chicago recommends you get the celiac blood screening done "twice in the first year after their diagnosis. The first appointment should occur 3 to 6 months after the diagnosis, and the second should occur after 1 year on the gluten-free diet. After that, a celiac patient should receive follow-up testing on a yearly basis."  It also says as long as the blood screening shows your antibody levels returning to normal, you should not need a follow up biopsy.
It is the goal to have your antibody levels reach the normal range before the one-year anniversary of your diagnosis.  But don't be discouraged if that doesn't happen.  The University of Chicago says there are patients who take longer than a year to heal after their diagnosis.
If you have any questions about follow-up tests after celiac diagnosis, be sure to contact your medical provider.
Sources:
*National Foundation for Celiac Awareness Facts and Figures
**University of Chicago Celiac Disease Center Facts and Figures
Tags: antibodies, autoimmune, biopsy, blood, celiac, diagnosis, disease, follow-up, re-check, screening, serology, testing, tests