Google is out with its year-end most searched lists of people, places, foods, restaurants, sports, athletes, events, calorie searches, cocktails, celebrity pregnancies and …well the list goes on.
This year though, in the category entitled "What is…." the question "What is gluten"  came in at number 5!  Another thing that is interesting is that the peak when the search was most popular was the week that the FDA's gluten-free labeling rule came out (which happened August 2nd, 2013).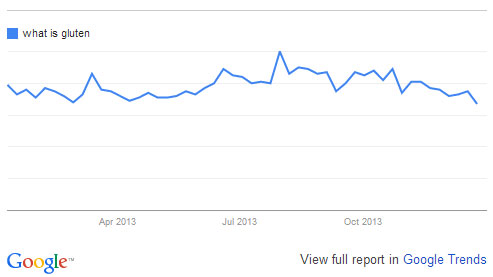 It certainly shows people are interested in learning more about gluten and that is great! For a little perspective, we beat out What is…Sequestration…Obamacare…..Lupus….and Snapchat. But we fell behind: What is…Molly….DOMA….Ricin….and of course — Twerking which was number 1 (believe me, I NEVER thought one of my posts would have the word Twerking in it).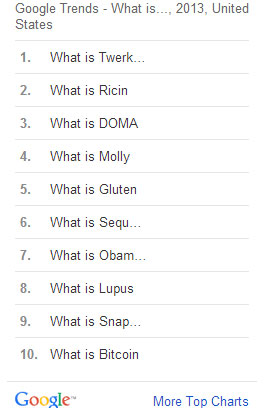 Colorado was the state where it was most-often searched, followed by Washington state, Hawaii, Nevada and California.
The category I was completely surprised didn't show gluten in the results was the Top-Searched Diets.  Paleo was #1 (which incidentally is also a grain free diet which means for someone on the diet is should be gluten free).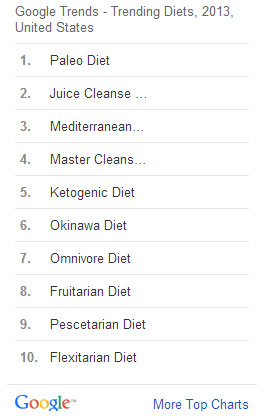 I did look a the 2012 list which had fewer trends that were analyzed, so gluten never appeared on any list. Overall I think it is interesting that we made a dent in Google history for 2013!  Keep up the awareness!
Tags: diet, gluten-free, lifestyle, trend