Welcome to The Savvy Celiac. Where we help smart people become savvy gluten free consumers.

Every day news is made regarding celiac disease and its only treatment: a gluten free diet. Whether it is information about gluten free foods, recipes, scientific research, school tips, eating out, or the basics about the disease symptoms that come with having celiac, we talk about and report on it here using reliable sources and key experts to create great content.

If you have celiac disease, a non-celiac gluten sensitivity or are eating gluten free for other reasons, our one goal is to empower you with information to live a healthy gluten free life.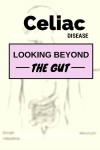 Don't have GI symptoms? Must not be celiac. Wrong. Learn more on why you should look beyond gut symptoms for celiac disease.
Read more...
The next challenge for a possible future celiac treatment — could be a big one.

There is still time left to get ready for your gluten free Easter! From egg dye kits to candy– see what is gluten free for your holiday.
Read more...

Traveling and being GF is tough. But being gluten free on United Airlines just got a lot easier. See how the company is beefing up its offerings to make your flying experience a bit easier.
Read more...

We could all use a few gluten free cooking tips now and then right? Emeril Lagasse's daughters are both gluten free and offering up their expertise!
Read more...

What happens when you stick a bunch of GF experts in a room to talk gluten-free products? Everyone learns a little something!
Read more...

Gluten free is a big topic, thanks in part to gluten-free bloggers. See what they learned at Blogger U to make their content even better.
Read more...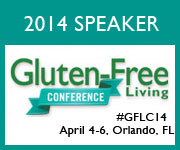 The Gluten-Free Living Conference promises to bring the pages of the magazine to life! Primo news and lifestyle education! Find out what the speakers are looking forward to and how you can track the conference even if you aren't there.
Read more...

85% of Americans with celiac are undiagnosed. Why? New research says the lack of diagnosis goes beyond doctors not looking for it. So what may be keeping Americans from getting tested for celiac?
Read more...

Research shows anew tie between coronary artery disease and celiac. What is causing it and what can you do?
Read more...