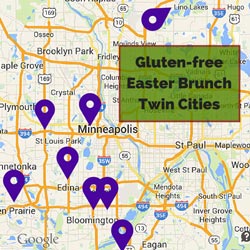 Going out for Easter brunch is a tradition for some families.  But if you have to live gluten free, going out for that brunch may worry you about possible gluten contamination of the food.  That doesn't make for a very fun brunch.  Here are a few Twin Cities' restaurants that have gluten free Easter brunch options.
Paleos
Paleos is an all gluten-free and paleo restaurant in Lino Lakes (north metro).  It opened last year, but this will be the restaurant's first Easter brunch. Elizabeth from Paleos explained via email how the brunch will work, "Our brunch will include your choice of entree plus endless buffet of salads, fruits, muffins, cereal, breads and desserts.  The entrees will include, steak and eggs, maple bacon pork chop, house omelet, protein patty, or avocado eggs benedict."  She says   Paleos is the only entirely gluten, dairy and soy free menu in the area.
Brunch goes from 10:00 a.m.-3:00 p.m. on Easter Sunday (April 5th).  Cost is $26.95 or $12.95 for kids 10 and younger.
Ernie's Pub
Ernie's Pub is in Burnsville — on the south side of the Twin Cities area.  They serve brunch between 9:30 a.m. and 3:00 p.m. and require reservations.  Ernie's is dedicated to the gluten-free community and takes great care in ensuring a safe meal.  The buffet includes gluten free items such as:  American Fries, Bacon, Sausage, Carved Ham, Carved Turkey, Veggies, Mashed Potatoes & Gravy, most of the Entrees, and many of the Desserts.
Cost is $21.95 per person, $9.95 for kids ages 5-12 and kids under 5 eat free.  Click here to request your reservation through the restaurant website and to learn more about Ernie's Easter brunch.
Crave
Crave has restaurants in Edina, St. Louis Park, Mall of America and Minneapolis.  It is very gluten-free friendly.  Chris Nelson of Crave sent us a list of what is gluten free on the Easter buffet this year.   Salmon with Mango Salsa,  Anti-Pasta Platter with a variety of  sliced meats, cheese, and pickled vegetables, scrambled eggs with smoked cheddar, sausage links, bacon, Potatoes O'Brian (Heirloom Potato medley, griddled with onions and peppers).
The buffet is available from 9:00 a.m.- 3:00 p.m. and is $32.95 and children 12 and younger are $14.95.
 Wildfire & Twin City Grill
Wildfire (Eden Prairie) and Twin City Grill (Mall of America) will be open for Easter and serving their traditional dinner menu.  Click here to see Wildfire's gluten-free menu.  Click here to see Twin City Grill's gluten-free menu.  Both restaurants are owned by Lettuce Entertain You and staff is well-educated on gluten-free needs.
At any of the buffets listed above, if you are uncomfortable with possible cross contamination that can happen, just ask your server or the chef to get a fresh gluten-free dish from the kitchen.  Crave specifically confirmed that would not be a problem. My family has asked for this accommodation in the past at other restaurants and have eaten with success.
I hope you are able to enjoy a safe gluten free Easter brunch with your family and friends!
Tags: celiac, dining, eating, free, gluten, gluten-free, menu, out, restaurant, sensitive