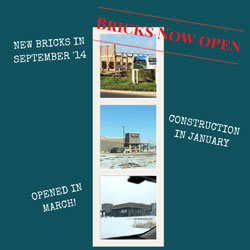 I finally got a chance to stop by the new Bricks Kitchen and Pub in Blaine.  The gluten free friendly restaurant closed abruptly in August.  But just a month or so later, construction suddenly began on a new restaurant not far away.
Welcome to the new Bricks.  The restaurant did a soft opening on Valentine's Day, but officially opened  about two weeks ago.  My gluten free daughter and I went for dinner late last week.
Good news, the chef stuck around from the old restaurant to the new one.  He understands celiac and the need for safe gluten free food.  They still have a separate gluten free fryer as well.
As you might expect, the menu changed a bit.  I would describe it as a bit more upscale, adding entrees like filet mignon and lobster linguine.  Gone is the more "pub-like" food– no shepard's pie, for example.  Prices went up a little too.  You can easily find the gluten free foods with a GF symbol or gluten-free by request GFR.  The fries, for example are GFR, so you need to tell them you want the fries made gluten free, so they put the fries in the fryer that isn't contaminated with gluten.
I had a gluten free cheeseburger (with a GF bun) and fries.  One of the things about the old Bricks is that their shoestring fries were simply awesome. We were known to order a basket of them, a few drinks and then watch the World Cup.  These fries are a handcut version of them.  They are not as "shoestring skinny" as I would have liked, but they are fine.  They remind me more like the fries at Five Guys.  The homemade ketchup was also okay, but they do have regular ketchup, you just need to ask.
Emma had the chicken which came with a sweet corn cheddar cake (yes gluten free) and she ordered a side of whipped potatoes.  It was good.  The cake was too cheesy for Emma, but I tasted it and I didn't think it was too cheesy or too sweet.  I would have liked it to be a little more one or the other.
As for the new building itself, it is lovely!  It has a huge bar, a great fireplace out front where outdoor patio seating will be available in the warmer months.  They could use a bit more parking.  Plus it is right by the National Sports Center in Blaine.  So if you are in town for a hockey, figure skating or soccer tournament and want or need gluten free options, this is your best spot. Please stop by and support this restaurant that is really bringing educated gluten free options to the Blaine, Coon Rapids, Anoka, Fridley, and Spring Lake Park area.
Tags: Blaine, Bricks, food, free, gluten, gluten-free, National Sports Center, pub, restaurant