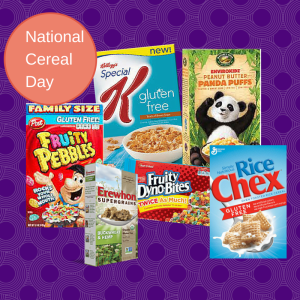 Today is National Cereal Day!  I, myself am a lover of all things cereal.  I could have it for breakfast, lunch and dinner. So this day, for me is a day to celebrate!
Here's what is great, now, more than ever, we can find a selection of gluten free cereal in your regular super market.
Just in the last year, Chex unveiled its new gluten free oatmeal and Post got its gluten free Special K onto store shelves.  Plus, in the next few months, we will start seeing General Mills' Cheerios become gluten free.  Add those to Post Fruity and Cocoa Pebbles, the regular Chex cereals, gluten free Rice Krispies and Malt-O-Meal's Fruity Dyno Bites, you can now have your choice of cereals.
This is a far cry from when Fruity and Cocoa Pebbles were the only mainstream option for grandparents to stock up on, or to get when you're on vacation and a natural food store is nowhere to be found.
Recently on The Savvy Celiac Facebook page I asked folks what their favorite gluten free cereal is. I thought I would share it here in case people are searching for a new cereal and are worried about wasting their money.  I had 29 responses (minus the one person who said pancakes):
Chex by far was the most popular, not surprising since they have six different gluten free options and most other brands have only one or two….please keep that in mind.  If people just answered "Chex" I put it into the Rice Chex Category.
Rice Chex:  3 votes
Chocolate Chex: 3 votes
Cinnamon Chex: 3 votes
One reader likes Chocolate Chex as a snack. "It's really good for a sweet-crunchy-snacky fix", she said.  The new gluten free Chex Granola and oatmeal each got a vote.
Honey Nut Chex got two votes, as did Kellogg's new gluten free Special K, Post Fruity Pebbles and Fruity Dyno Bites.
Cereals that also got a mention include Cocoa Pebbles, Peanut Butter Panda Puffs, Barbara's Puffins, Apple Cinnamon Chex, Corn Chex and  Van's Cinnamon Haven.  Erewhon's Buckwheat & Hemp cereal got a shout out as well.  The customer said, "I disliked cereal my entire life until I found this one."
A few other notes, one reader suggested she likes to mix Barbara's Puffins Honey Rice Cereal with Van's Cinnamon Haven.
And another reader eats Chocolate Lucky Charms. General Mills does not promote it as a gluten-free product, even though there are no obvious sources of gluten in the ingredient listing.  Please check out the post I wrote on this product last year.  
Here at our house my gluten-free daughter likes Rice Chex and Fruity Pebbles.  I like the GF Special K,  Gluten Free Chex Oatmeal and I also really like Arrowhead Mills Gluten-Free Rice and Shine.  I am also a HOT cereal kind of gal.
I will say, the reason I even know about National Cereal Day was because the folks at Chex alerted me to it and sent me a few boxes of their product free of charge.
Tags: celiac, cereal, cold, corn, free, gluten, gluten-free, hot, rice