I get so bored with doing your typical spaghetti, baked chicken breast and hamburgers.  Whether gluten free or not, we can get in a rut when it comes to preparing meals, which is why we get tempted to eat out.
This fall I had the opportunity to try out Melissa d'Arabian's Supermarket Healthy cookbook.  D'Arabian is the host of Ten Dollar Dinners on the Food Network and won the Next Food Network Star in 2009.
First of all, Supermarket Healthy is not a gluten-free cookbook.  D'Arabian has a daughter with a gluten sensitivity which was diagnosed while this book was being compiled.  The good news is you can easily make substitutions, like dredging your meat in a gluten free flour or using gluten-free noodles.
Throughout the book there are tips on buying at the supermarket or quick tips for your kitchen.  The goal is to use easy to find,  real food to create your meals.
The recipe that sold me on this book is the Creamy Cauliflower and "Baked Potato" Soup.  See recipe below. I posted the photo of the soup I made on Instagram in November and people went crazy for it!  I would recommend the book just simply for that.
But the other thing the book did was empower me try a different recipe with the same foods I already purchase.  My family is not overly ambitious when it comes to flavor profiles or varieties of food.  As a result I found the small section on the four-step dinner very helpful.  Basically it shows how you can combine whatever meat or fish you want, with some recommended flavors, and how you can make the sauce and do it all in one pan.  It was an easy way for me to take what was in my freezer and make it work.
There are sections like this for meatballs, frittatas, melt-style sandwiches, "salad-in-a-jar", trail mix, and skillet glazed vegetables.
The other thing I started to do is buy cauliflower and broccoli, cut them up and freeze them myself to use in these recipes.  I am not averse to buying frozen vegetables, but when I bought them (particularly with the broccoli), I would get a whole bunch of stems, when I prefer the florets on top.
Now, because the vegetables are cut up and ready to go in my freezer, I am more apt to use them, on the fly, in my food.  They are quick to steam or grill and serve.
Supermarket Healthy just became available December 31st.  I like it for its coverage of basic foods, using ingredients I usually already have in the kitchen, just in a new way.  Again it is not gluten free, but it would be a good book to try your hand at simple substitutions.  I did receive this cookbook free of charge from the author.
Creamy Cauliflower "Baked Potato" Soup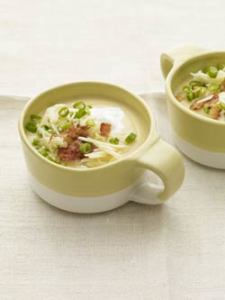 There are few soups more decadent than a classic baked potato soup, loaded with cream, Cheddar cheese, and smoky bacon. I make a lighter version by leaving out the cream, subbing cauliflower for most of the potato (using one potato locks in the flavor), and adding a dollop of reduced-fat cream cheese to deliver the creaminess and cheesiness. A stealth addition of one carrot adds a subtle color that makes the soup seem cheesier than it is, since the only Cheddar here is what sits on top of the soup!
Serves 4
Preparation Time: 20 Minutes
Cooking Time: 30 Minutes
2 slices bacon, finely chopped
1 sweet onion (Maui or Vidalia), finely chopped
1 small head of cauliflower (about 1¼ pounds), cored, trimmed, and divided into small florets
1 medium russet potato, peeled and cut into 1-inch pieces
1 small carrot, finely chopped
2 garlic cloves, very finely chopped or pressed through a garlic press
½ teaspoon kosher salt
¼ teaspoon ground black pepper
2 cups low-sodium chicken broth
¼ cup reduced-fat cream cheese (Neufchâtel)
½ cup plain reduced-fat
Greek yogurt
½ cup grated Cheddar cheese
2 scallions (white and light green parts only), finely chopped
Directions:
1 Add the bacon to a large soup pot set over medium heat and cook until the bacon is crisp, about 7 minutes. Use a slotted spoon to transfer the bacon to a paper towel–lined plate and set aside.
2 Stir the onion into the bacon fat and cook, stirring often, until it is translucent, about 3 minutes. Add the cauliflower, potato, carrot, garlic, salt, and pepper and cook, stirring occasionally, until the vegetables begin to soften, about 5 minutes.
3 Raise the heat to medium-high, add the broth and 1 cup water, and bring the liquid to a boil. Simmer the mixture until the vegetables are very soft, about 13 minutes. Turn off the heat and use a ladle to transfer half the vegetables and liquid to a blender. Add the cream cheese and blend until smooth.
4 Pour the puréed soup into a large bowl or clean saucepan. Blend the second half of the soup until it is smooth and add it to the first batch. Heat the soup over medium heat until it is warmed through. Divide among soup bowls and serve topped with a dollop of yogurt and some of the grated cheese, bacon, and scallion.
PER SERVING: Calories 187 / Protein 10g / Dietary Fiber 3g / Sugars 6g / Total Fat 10g
Reprinted from Supermarket Healthy: Recipes and Know-How for Eating Well Without Spending a Lot. Copyright © 2014 by Melissa d'Arabian. Photographs © 2014 by Tina Rupp. Published by Clarkson Potter, an imprint of Random House LLC.
Tags: cookbook, cooking, dinner, free, gluten, gluten-free, healthy, meal, recipe, supermarket