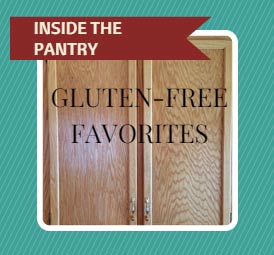 Recently a friend of Emma's was diagnosed with a gluten sensitivity.  As her family explores this transition to gluten free cooking, over the weekend the mom asked me whether my website had a list of gluten free favorites.  Hmmmm, I thought.  Well, I do have product reviews, but I am not sure I have our favorite products listed in one spot.  So I am doing it now.
I have to say, brands change often for us, because gluten-free products are evolving, for the better.
Here is a list of the gluten-free staples in our pantry right now, that might be worth a try for you.
Noodles:
Soups
Salty snacks

Glutino Pretzel Sticks perfect for dipping, eating with cheese or using as crunchy chow mein noodles <– seriously..you should try it
Baked Cheetos or Baked Ruffles  These are favorites for my girls when they have a to-go lunch that has to be made
Everyday Essentials Butter Microwave Popcorn — this is a generic brand sold at Cub Foods and labeled gluten free

Crackers
Flour

I usually make my own basic flour mix using rice flour, potato starch and tapioca starch– I buy those supplies at Asian food markets.  I use this as my base mix…for baking but also for thickening gravy.
Sorghum and brown rice flours from Bob's Red Mill

Flour Mix:  King Arthur's All-Purpose Gluten Free Baking Mix.  It does not contain xanthan gum.  I made some great pizza crusts with it recently.

Pre-made pizza crust

Schar gluten free pizza crusts.  These are individually wrapped and are shelf stable.  Emma likes these because they are not super thin like most gluten-free pizza crusts

Stuffing
Sauces
Cereal
Pancake and cornbread mix
Taco night

Ice Cream Sandwiches

Cheese
Bread

Udi's Bagels mostly used to make homemade croutons
Glutino English Muffins Emma loves these as a snack
*note, we don't really buy bread.  Emma doesn't really eat sandwiches, she would rather do crackers (see favorites above) and meat and cheese.  I did get my brother and dad Canyon Bakehouse hamburger buns for sandwiches once and I was told they were pretty good.  

Other
Keep in mind, my daughter has pretty bland tastes.  So you may want to spice any of these products up with your own twist.
Tags: bread, celiac, crackers, favorites, flour, free, gluten, gluten-free, pizza, products, sauce, snacks, soup, staples