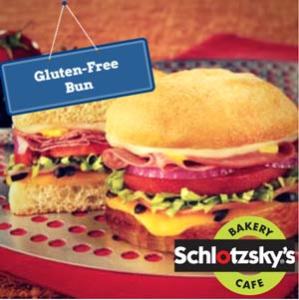 Adding gluten-free friendly options to menus is a big restaurant-industry move this year.  Udi's Gluten Free is definitely reaping the rewards too.  In the last few months, their buns were added to SmashBurger and TIGFridays.  Now Schlotzsky's Bakery and Cafe is the newest company to join in.
Schlotzsky's has restaurants in more than 30 states, including Minnesota (Brooklyn Center and Edina).  But the south– mostly Texas is where you find it most often.
Schlotzsky's Protocol for Gluten Free Bun
Now you can get a sandwich on an Udi's Gluten Free bun there.  The company explained to me they put together a "stringent 10-step protocol for storing, prepping and preparing any sandwich on our menu to ensure they are served to our guests as gluten free as possible."
Here's the protocol according to Schlotzsky's:
Change into a fresh pair of food safe gloves
Open individually wrapped Udi's bun
Place GF bun on foil to avoid contact with Meat/Cheese make table; build sandwich as ordered
Send sandwich through conveyor oven on same foil to avoid food contact
If a different person is working the Finish make table, they must also change gloves.
Place two large sandwich papers on the Finish make table to avoid food contact
Remove GF bun from oven and place on double paper.  One is used to wrap the sandwich and the other to protect the GF bun wrap from the finish make table
Finish the sandwich build as ordered using covered vegetables stored under the Finish Make table away from regular use
Wrap sandwich in paper and proceed with Dine-In or Carry-Out/Drive-Thru order procedures  – to avoid contamination with knives used for other sandwiches — DO NOT cut the GF sandwich!
If the guest orders a pickle for Carry-Out/Drive-Thru service, it must be wrapped separately.
Shared ingredients
Do they share ingredients? As you read under #8, there are some ingredients stashed away to avoid cross contamination.  Those ingredients include the what Schlotzsky's calls the three most popular ingredients:  lettuce, tomato and onion.
I inquired further about the shared ingredients, explaining that it is nice that they have those three ingredients off to the side, but it really doesn't matter if all of the other ingredients are cross contaminated in the process.
As for the other ingredients, Mark Mears, chief marketing officer of Schlotzsky's says  the meats and cheeses are all gluten free.  "The meats are freshly sliced and pre-portioned each morning," Mears explains.  "Each portion is wrapped in paper and bundled in plastic wrap prior to being placed on the line." He says the paper wrap helps reduce the chance of cross contamination because it minimizes contact with a gloved hand that may have touched our gluten bread.
Both the cheese and the meat are pre-portioned.  Other toppings (except for the ones with extra portions set aside: lettuce, tomato and onion) could still be potentially cross contaminated.    Finally, I asked if a customer inquired, would they be willing to find fresh ingredients to ensure the best chance at a gluten-free sandwich?
"Of course, part of our 'Heartfelt' Hospitality approach, if a gluten sensitive/intolerant guest requests a team member to get new ingredients (beyond those that have been preportioned), we would certainly accommodate them." –Mark Mears
Mears did point out that Schlotzsky's is a "working bakery and therefore not a 100% gluten-free environment."  While, he says, they take extra precautions to prevent cross contamination, they cannot guarantee it won't happen. "As a result, we categorize our sandwiches as gluten sensitive when prepared with an Udi's Gluten Free bun," Mears says.
Bottom line
As with any dining experience, you are taking a risk by taking the food prep out of your own hands and allowing someone else to make your food.  If you are concerned about cross contamination, but want to try the sandwich with a best effort– I would go during quiet hours, like after the lunch rush, so the person making the sandwich has the time to take to carefully prepare your sandwich.
Hopefully this gives you additional information to make an informed decision about this new sandwich option.
Tags: bakery, cafe, celiac, deli, dining out, free, gluten, gluten-free, restaurant, sandwich, Schlotzsky's, sensitive, sensitivity