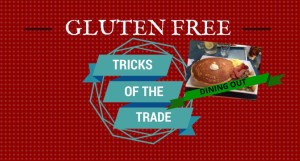 I was teaching a class last night and we had great fun talking about tips and tricks that we all learn along the way with the gluten free diet.  I thought that would be a fun topic to discuss here.

Today let's talk about this little trick that has worked well for our family when dining out.  It may not be for everyone, but maybe it is something to keep in mind if you are ever in a bind at a restaurant (that may have a gluten-free menu or not).
When I either call, or stop by a restaurant, I inquire with a manager or chef, about foods they have that can be prepared gluten free (being sure to ask about rubs, spices or marinades on foods like steak, chicken and hamburgers), then I ask:
"How would you recommend the food be prepared to reduce the risk of cross contamination?"
Often times the answer is very reasonable and if it is not, I would ask more questions and determine if this is a place at which our family would want to dine.  If the restaurant has a good procedure in place for a gluten-free menu, this in theory should be a quick conversation.  But if they don't have a gluten-free menu but are willing to help, these questions get a good conversation started.
Years ago, I actually used to be more demanding.  Saying that everything chefs cooked for my daughter had to be in a separate pan, etc, not knowing how their kitchen ran.  That changed when we went to Perkins (of all places), about 10 years ago. I just wanted to order some scrambled eggs for my celiac daughter, Emma.  I started in talking to the waitress about needing the separate pan to help eliminate cross contamination, and the waitress suggested to me that microwaving the eggs would be the best way to keep them from getting contaminated in their kitchen.
And I was all for it!  It was a great suggestion and she took some ownership in it.  One we still use today wherever we order eggs.  One time we went to a Denny's in Utah on a road trip to visit family in Las Vegas, and we suggested the eggs be microwaved because we needed them to be gluten free.  It was no problem.  The manager said to us later it was such a good idea, he would remember that for when other customers have the same need.
Ever since that time, when I go to a new restaurant I will ask them how they recommend preparing it to reduce cross contamination.  For the most part, staff (management/chef) knows what will work better in their kitchen than I.  Plus, it empowers and includes them in the decision making.  We have had other food prep suggestions as well, like for a burger, steak or chicken– chefs have put it under the broiler with its own separate pan.  
Is this line of questioning I am suggesting foolproof? No. Dining out is always a little risky for gluten free eaters and mistakes can still be made.  It is just one trick we have used to get a gluten-free meal for our daughter– and has worked for us.  You could add this to your repertoire of techniques and questions you have when you eat out. 
Do you have a tip or trick when dining out that could help the gluten-free community with their next experience?  Feel free to share it here!
Tags: celiac, dining, free, gluten, gluten-free, menu, restaurant, tip, trick