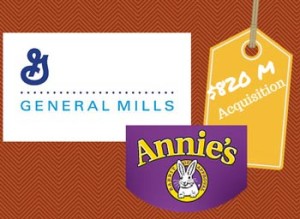 On Monday, General Mills announced it is buying Annie's Homegrown.  Annie's prides itself on using organic and REAL food– in your food.  It was the first gluten-free boxed macaroni and cheese I ever found for my daughter.
Annie's has expanded its gluten-free line, including fruit snacks, bunny cookies and an alfredo skillet dish, to be something that GF eaters, especially those who value organic foods, really count on. 
When I posted the news on my Facebook page Monday night, a lot of people chimed in and were disappointed with the business deal in which General Mills paid over $800 million. 
"I am kind of afraid they will change the integrity of the products…" one reader said.  Another reader commented, "Not good. I've been meaning to cut out more processed foods. Can't trust General Mills so no more Annie's."  And the feedback is even more difficult to read on Annie's Homegrown Facebook page.  
There are some folks who see it from the business side, "Could be good for getting their product in more stores," A Facebook reader commented on The Savvy Celiac Facebook page, "Just hope they do stick with their promise for organic and what they do for gluten free…"  Another reader said, " In my opinion, it is great. They are a great company, and it will be cheaper. I think they will stick to Annie's standards."
Annie's CEO spent some time Monday trying to calm customers' fears and frustration when he posted a statement on the company's Facebook page.  It reads, in part: 
"Our mission: We cultivate a healthier, happier world by spreading goodness through nourishing foods, honest words and conduct that is considerate and forever kind to the planet. that mission is hard won and has been built with integrity. We will never abandon it, but rather we will further it, by putting our product into millions of new homes, which will expand our positive impact even more. I have given 15 years of my life to that mission and I am not stopping now." — John Foraker, Annie's Homegrown CEO
Tuesday I took the concerns about Annie's gluten-free options to General Mills.  I asked what their response is to folks in the gluten-free community worried about those products in particular.  Bridget Christenson, external communications manager at General Mills wanted to remind readers that General Mills is committed to gluten-free, citing more than 600 gluten-free products.
Christenson said, "Annie's products are not changing. We're committed to maintaining the great tasting products that Annie's consumers love and trust, and to honoring the integrity of Annie's."  Specifically for the gluten-free sector, "Annie's gluten-free products certainly won't be changing," Christenson said. "They'll remain gluten free – and hopefully we'll be able to add to our broad offering of gluten-free foods."
How the deal works out remains to be seen, but according to the New York Times, the deal should be done later this year.
Tags: Annie's, cookies, crakers, General Mills, gluten-free, Homegrown, Macaroni and Cheese, pasta