Okay folks this will be my last post on the Minnesota State Fair for 2014.  Some of you may love these…or completely hate them. But I feel compelled to wrap this huge event up in a tidy way.
This year, with the disbanding of the Northland Celiac Support Group, Twin Cities Raising our Celiac Kids, Celiac Center of Minnesota (Julie Salato) and The Savvy Celiac (me) were asked about taking on this endeavor.  
We knew it would be significant– and it was!  We had three major components, a resource table with information on different places that could help you with gluten-free needs, the gluten free Minnesota State Fair vendor list and our own Jeopardy game.
By the numbers

After polling all of the licensed food vendors at the fair (nearly 250 of them) we ended up with 43 different vendors with gluten free offerings on the list!
On average, we had engagement of between 350-400 people each day!  That means we interacted with nearly 5,000 people!
144 volunteers were needed to fill each 3-person shift for three hours (4 shifts needed) each day of the fair.  We nearly made it with 121 volunteer shifts filled, which was an excellent turnout!  But if we were lacking any in significant areas, Julie or I filled in.  Plus it helped that some sponsors brought some staff to help promote their gluten-free products.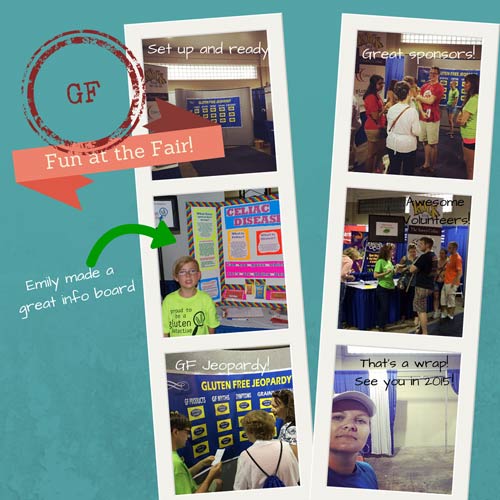 Many people walked right into the booth and said they were gluten free and really needed the list.  Others were looking for more information for family members or friends.  And even more were simply mesmerized by the Jeopardy game.  
Either way, people were very appreciative for the booth and more importantly the vendor list!  
With an overall attendance record this year of 1.82 million fairgoers it is no surprise some of them would want to check out our information!
A deep heart-felt thanks to sponsors: Gluten Free Chex, Down in the Valley Bakehouse, Tailor Made Nutrition and Burning Brothers Brewing;  donors: Bob's Red Mill and Snyders of Hanover and of course volunteers. We could not have done this without you!!
What took two days to set up, and 12 days to make memories in, was torn down Tuesday in about an hour.  Now we wait for next year!
Tags: booth, celiac, free, gluten, gluten-free, list, Minnesota State Fair, MN, sensitivity, Vendor