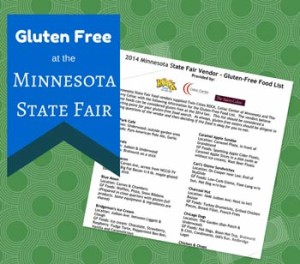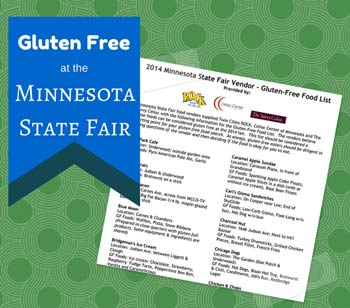 It is finally here! Info on Gluten Free food at the Minnesota State Fair!  
With the partnership of The Savvy Celiac, Twin Cities ROCK and Celiac Center of Minnesota, we spent hours sending letters to approximately 250 vendors we would be serving up food at the fair this year and more than 40 responded for this year's list.  We emailed and called back and forth alot confirming ing
Click here to download and print this year's State Fair Vendor List for Gluten-Free Foods
From Gluten Free Beer Battered Brats to  Mexican food to brownies, cupcakes and cookies, you have options to eat at the fair when you attend from August 21-September 1, 2014.  It has been a rewarding and challenging experience bringing all of this information together. But I think it so valuable for any of the nearly 2 million people who come to the Minnesota State Fair each year to have this option.
I want to mention the Gluten-Free Beer Battered Brat specifically because it was publicized by the fair in June on the State Fair's 2014 new foods list.  I talked with the vendor  about this product.  She has all gluten free elements for the product and plus a dedicated fryer/oil for cooking them. She does have other products she makes in the space with their own dedicated fryers.  She welcomes questions you might have. 
Other folks asked me about the french fry stand (where all they cook is fries).  Many gluten-free eaters were hoping to see it on this year's list.  I can tell you it is not on the list because I never heard from the owners.  I tried reaching out to the vendor via US Mail and again through the State Fair staff, with no success.  Sorry guys.  The only guidance I can give is that you should feel free to go talk to that food vendor on your own to  determine for yourself if you would like to have the fries. 
Bottom line to remember:  As with any restaurant experience, this list is a starting point for gluten-free consumers.  You should ask questions of the vendors and then decide if that food is right for you.
You can download the list and bring it to the fair. But if you  forget your list or just want to stop by and say hi, we will have our Gluten Free Booth up and running in the HealthFair 11 building at Dan Patch and Cooper all 12 days of the fair!  Come get your GF vendor list, ask questions, engage and play our Jeopardy-style game!
One more thing.  Thanks to everyone who has signed up to volunteer at our booth.  We appreciate it so much!  We are doing an event tonight from 4:00-6:30 p.m. to pick up your State Fair entry tickets as well as your t-shirt for volunteering.  You should have received info in your email. But it is at the location where the Celiac Center of Minnesota meets in Bloomington.  Click here for location information — scroll down to the bottom of the home page.  There are still a few opportunities to volunteer (and you get into the fair for free!).  Click here to sign up!
Tags: celiac, food, free, gluten, gluten-free, list, Minnesota State Fair, sensitivity, Vendor