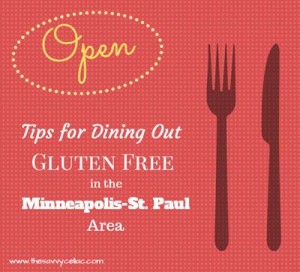 This month is a busy one in the Twin Cities area.
The All-Star Game events are going full boar right now in downtown Minneapolis.  
The USA Cup is a huge youth soccer tournament just 3 miles from my house at the National Sports Center in Blaine, Minn. Between last weekend's tourney and the week-long tourney that starts today, 1,016 teams and 14,000 soccer players from more than 17 states and 17 countries will play here.
And in two weeks legends in pro golf will be in Blaine at the TPC golf course for the 3M Championship.
So here are some quick highlights to get you around gluten free in the Twin Cities area:
If you are at Target Field for the All-Star Game, there is a robust gluten-free list of foods at the ballpark.  This includes a pork chop on a stick, bunless hot dogs, popcorn, soft serve ice cream and much more.  Click here to see the list.   
Pizza Luce:  I am a big fan. They have a separate preparation area and ingredients for gluten free pizza.  Plus many other gluten free menu options including stuffed shells, gluten-free bread and a brownie sundae (Mollie Bar Sundae).  There is one right in downtown Minneapolis just a few blocks from Target Field and several just south and west of there (Uptown Mpls, Richfield, Hopkins, and St. Paul)
Andrew Zimmern just named Smack Shack One of 9 places to eat and drink in Minneapolis during the All-Star Game.  According to Find Me Gluten Free, it can accommodate a gluten-free diet.  It is a mostly seafood kind of place.  I would call ahead to ask about the gluten-free accommodations since I didn't see a GF menu on their website.
Crave: I have eaten at the one at the Mall of America, but not downtown Minneapolis.  They are a conscientious restaurant with great chefs.  If you are a gluten-free diner, I suggest you go there. Gluten-free menus are right on their website.
Need to stock up on groceries while in Minneapolis, check out the new Whole Foods right on Hennepin and Washington in downtown.  
If you are willing to drive a little bit or are staying outside of Minneapolis, here are a few other suggestions.  Wildfire in Eden Prairie or Twin City Grill at the Mall of America.  They are great options.  Owned by the same company, they have trained chefs and staff very well on making a safe gluten-free meal.
Folks who are staying in the south end of the Twin Cities can check out Ernie's Pub in Burnsville for their gluten free options as well.
On the east side, Cravings Wine Bar is a good place to eat in Woodbury.  According to Find Me Gluten Free, they are also GIG trained. I have successfully eaten there with some gluten-free friends.   And while you're in the area, stop at Tailor Made Nutrition which is about a mile away. It is a gluten-free grocery store.  Stock up on snacks and must-haves during your trip!
Mad Jacks Sports Cafe in Vadnais Heights (Pronounced VAD-nihs), also has a great gluten-free menu including appetizers!  This is located in the northern part of the Twin Cities. They keep a gluten-free deep fryer.
Original Pancake House in Roseville, Minn. (this is good particularly for those USA Cup folks who can't get a hotel in Blaine). This serves breakfast until they close around 3:00 p.m.  The Roseville location was constructed specifically to house a gluten-free section of the kitchen (info on that here).  Other locations in Edina, Eden Prairie and Maple Grove will clean the griddle before making your food.  As always double check on toasters and waffle makers to make sure they are not shared with gluten-containing foods.
The best and safest place to eat in Blaine near both the USA Cup and 3M Championship hands down is Brick's American Pub.  It is just blocks from the National Sports Center.  The chef has celiac.  He keeps a fryer gluten-free and has chicken wings, burgers (with GF bun), and yummy shoestring fries.  Just ask for them to be gluten free. Emma also likes to eat at Chipotle, which is just down the strip mall from Bricks.  At last check the pizza places in our area that do "gluten-free" pizza all share their ingredients/sauce with gluten products.  
The best place we have found for gluten-free pizza in the north metro area of the Twin Cities is Pizza Flame in Coon Rapids.  It is a little bit of a drive from Blaine, but it is Emma's second favorite behind Pizza Luce.  The menu is not very telling of it's gluten-free pizza options.  So I would recommend calling ahead for information on preparation.  
The list of restaurants is huge on the Find Me Gluten Free website.  If you have luck with another restaurant not listed here that worked well for you, please feel free to comment below.   Except for Smack Shake, my list is comprised of restaurants I have eaten at and successfully done a safe gluten free meal for our celiac daughter.
Good luck and good eating in the Twin Cities this month!
Tags: 3M, All-Star Game, baseball, Blaine, Championship, dining, eating, food, free, gluten, gluten-free, golf, menu, Minneapolis, minnesota, National Sports Center, restaurant, soccer, USA Cup