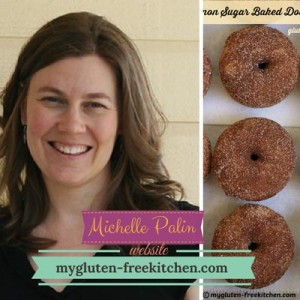 Of the gluten-free food bloggers being highlighted each Friday during the month of May, Michelle Palin of Mygluten-freekitchen.com is one of the relative newcomers.  Her website focuses on family fare and yummy desserts — all gluten free.
Palin believes she was misdiagnosed (or as she puts it, played "stump the doctor") for 17 years  before she was finally diagnosed with celiac disease in 2010, Palin calls the diagnosis a "relief".
After trying to have a combination gluten and gluten-free household, she said somehow she kept getting contaminated.  So now her kitchen is 99% gluten free, the exception being her husband's cereal, which is kept out in the garage and he cleans up all of his dishes after eating it.
So now Palin focuses her gluten-free cooking on her family and sharing it with the world through her blog. "I hope to inspire confidence in the kitchen and encouragement for converting your family favorite recipes to gluten-free," Palin says. "All of the recipes I share are tried-and-true recipes that I use in my own home over and over."  From the looks of the cinnamon sugar donuts on the main page of her website today– …let me just say…yum!
In the Friday profiles during Celiac Awareness Month, I have asked Shirley Braden, Linda Etherton, and Amie Valpone these questions…now Michelle Palin is in the hot seat.  If you are a cook, or interested in gluten-free cooking, here's where we can learn a little bit.
What is the one ingredient/food item you consider a "must have" in a gluten free kitchen and why? "Butter. If you don't have to be dairy-free, I definitely recommend using good butter in your baking. It lends such a richness and flavor that is hard to mimic with non-dairy substitutes."
What tool could you not live without in your kitchen? "My KitchenAid stand mixer. I use it almost every day."
What is the biggest mistake you have learned from in the gluten free cooking/baking world? "When shopping, always, always double-check those ingredient lists for gluten. Even if the product says "gluten-free" on it, or even if you have bought it 100 times before. Brands you know and love can change manufacturing practices anytime. I used to use and recommend Ghirardelli baking cocoa, but this past year they changed their manufacturing and their cocoa (and other products) now say "May contain wheat". I had to stop recommending them."  Here's Palin's list of safe brands of chocolate.
What is the best cooking/baking advice you can offer to the gluten-free community?  "Don't settle for gritty or crumbly gluten-free baked goods. Gluten-free baking doesn't have to be hard or have those terrible results. Get a good gluten-free flour blend, or make your own good blend, pull out those family favorite cookies and just start baking! My preferred flour blends are Gluten Free Mama and Jules (soon to be gfJules)."
Want to try some of Palin's recipes?  Below are some of her favorites. But of course, check out her website for more!
The Best Grilled Salmon (gluten-free)
Peanut Butter Brownies (gluten-free) 
Find My Gluten-Free Kitchen on social media:
Facebook:  My Gluten-Free Kitchen Blog
Twitter: @MyGFreeKitchen
Pinterest: My GFree Kitchen
Instagram: My Gluten_Free Kitchen
Tags: baking, blog, celiac, cooking, free, gluten, gluten-free, kitchen, Michelle, Mygluten-freekitchen.com, Palin, profile, sensitivity, tips