The US military is always in recruiting mode, but now is probably the time when many high schoolers nearing graduation are thinking whether being in the US Army, Navy, Air Force or Marines is in their future.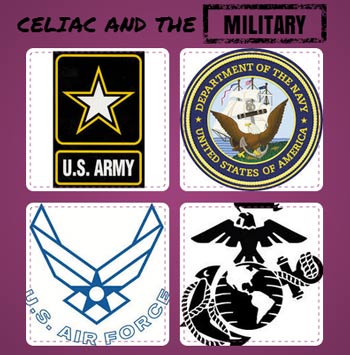 I recently saw a question on Facebook asking whether you could be in the military and have celiac disease.  Last year, I looked into this question when I interviewed Cynthia O. Smith.  She is a US Department of Defense (DoD) spokesperson.  "A person with celiac disease and/or a gluten intolerance or sensitivity would not be eligible for entry into the military," she told me.  
According to Smith, the Department of Defense has a directive on this subject. The Department of Defense Instruction (DoDI) 6130.03 "Medical Standards for Appointment, Enlistment or Induction in the Military Service" says "…individuals accepted [into military service] are 'qualified, effective and able-bodied persons' capable of successfully performing military duties".
You might wonder "able-bodied? When I'm gluten-free I am most certainly able-bodied."  But the DoD doesn't see it that way. It says under the DoDI medical standards, "current or history of intestinal malabsorption syndromes including but not limited to celiac (disease) does not meet the [medical] standard."
Plus, the military food might not be as accommodating.  Smith said, "all military members must be available for worldwide duty 24 hours a day without restriction or delay. This duty may be in remote areas lacking immediate and comprehensive medical support."
If you still want to help serve your country, you can do it as a civilian.  Click here to learn more about those opportunities.