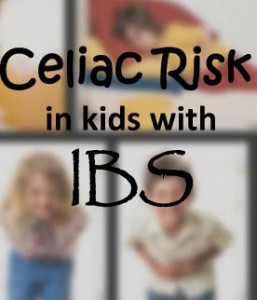 Irritable Bowel Syndrome also known as IBS.  We have all heard of it, maybe you have even been diagnosed with it.  Research posted in the National Institutes of Health (NIH) report about 10-20% of children in the US have IBS.* 
"a functional gastrointestinal (GI) disorder, meaning it is a problem caused by changes in how the GI tract works. Children with a functional GI disorder have frequent symptoms, but the GI tract does not become damaged. IBS is not a disease; it is a group of symptoms that occur together."  – National Institutes for Health
Common symptoms are abdominal pain or discomfort, like cramping, along with diarrhea, constipation, or both.  As you can imagine, these symptoms sound awfully similar to celiac disease or even a gluten sensitivity.
 A new study published Monday in the Journal of the American Medical Association – Pediatrics  reported on whether kids diagnosed with IBS may actually have celiac disease.
Patients in this study were diagnosed as having  IBS, functional dyspepsia (when your stomach feels like it might have indigestion with no obvious cause, MayoClinic.org), functional abdominal pain (painful or painless diarrhea or constipation. x-rays and lab work offer no explanation for a cause. iffgd.org), or abdominal migraine (pain in the center of the abdomen that might be severe, medcinenet.com).
The results found that children diagnosed with IBS were 4 times more likely to have celiac disease. 
An editorial also ran in that  JAMA issue from James E. Squires, MD.  He works in the  the Division of Gastroenterology, Hepatology and Nutrition at Cincinnati Children's Hospital Medical Center.  According to Medscape.com, he and his colleagues wrote based on this study, "we suggest that selective screening for celiac disease is warranted for children with IBS but not for children with other [functional gastrointestinal disorders (FGIDs)]. However, the lines distinguishing IBS from alternative FGIDs are often blurred."
The editorial and study also say more research in this area is needed.
*According to the NIH, the research denoted by * didn't  differentiate IBS from functional abdominal pain, indigestion, and abdominal migraine.
Tags: autoimmune, celiac, constipation, diarrhea, gastroenterologist, gluten, gluten-free, IBS, Irritable Bowel Syndrome, pain, stomach