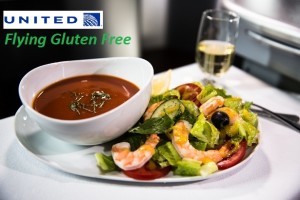 When you travel you know it can be tough to maintain the gluten free lifestyle.  So you always need to pack your food supplies at all times — including for your plane trip.
However, United Airlines is trying to make that easier.  In March, it started making a gluten-free meal available.  The company's news release announced the addition in late February.  So I thought we would check in to see how it is going.
Gluten Free on United Airlines: The new additions
Here is the information from United:
Premium Cabin: Already has a gluten-free soup and as of March 1, added gluten-free salad dressings so a passenger could have a soup and salad meal available to them.  Eventually these will be added to premium seats on international flights.
Snack boxes are free to premium (read 1st class) customers but have a fee if you are in economy (or coach).  United says this spring at least one of its snack boxes will be completely gluten free.  
Currently half of the contents of all three snack boxes: Classic, Savory and Tapas, are gluten free. This is a good change because who wants to buy one of these boxes at full price knowing that they can only eat half of the contents.  
Also they are offering two gluten-free snack bars as an ala carte option for passengers.  
First-Month Report
I checked in with United on the first month of their changes and they say so far, so good.  "We're evaluating our customers' response to our new menu items," Karen May, Spokesperson and Public Relations Manager for United. "However, we believe they appreciate the things we do to make them comfortable and to meet their dietary needs."
So here is how May explains the pricing is if you fly economy:  
Two Degrees Fruit & Nut Bars (two-pack box) – $3.99

Classic Snack Box – $7.99

Tapas Snack Box – $8.99

Savory Snack Box (expected to be 100% gluten by late spring) – $8.99
But there are also opportunities to get what United calls a "gluten intolerant meal".  Here is the description:  "This meal is available for customers who are gluten-intolerant, and does not contain wheat, barley, rye or oats."  You can make the request at the time of booking your reservation.  The gluten free meal would be made available when a flight is serving breakfast, lunch or dinner.  For all other details, click here.
While this is all great news, I still always recommend you bring your own gluten free food and snacks with you for the plane and your trip.  What if your flight is cancelled and your meal doesn't transfer to the next flight.  Or what if they simply forget your meal?  Just put some of your gluten free favorites into your carry-on and/or luggage and you will be set!
I have not been able to experience United's gluten free meals first-hand just yet.  I live in Minneapolis and we are a Delta hub.  But if I ever do get on a United flight I will report back.  In the meantime, have you experienced gluten free on United Airlines?  Comment below!
Tags: airplane, airport, celiac, flight, flying, food, gluten-free, plane, travel, United Airlines