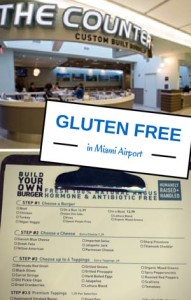 We had a great Miami airport gluten free experience on our way home from Haiti this week and were able to get Emma filled up in time for our final leg back home.
As you may know I was worried about this because airports tend to not be so gluten free friendly and really that is one place in the US where you can feel trapped!  Once you get through security, you don't dare leave to find food.  I wrote about it the day before leaving for our trip.
On our way to Haiti we did a quick stop at Wendy's for a bunless burger, baked potato and Frosty.  We didn't have much time.  We did, however, have more time on our way home.  
My original intention was to go to California Pizza Kitchen, but then Michael from Gluten Free Philly said he was told CPK didn't have the new gluten free process in place in the airports. By the time I found that out, I was in Haiti and preparing to return home.  So really researching  to confirm Michael's information just wasn't going to happen. So plan B was heading over to The Counter.
I was tipped off on this at PeterGreenberg.com where he had a few different recommendations for gluten free airport food.  
We had an excellent experience! The place has a clipboard-style menu where you pick all of the elements of your burger.  Emma got a cheeseburger on a gluten free bun.  The french fries and sweet potato fries are also gluten free (nothing else contaminating the oil either — although always worth double checking this during your trip).
I meant to take a picture of her plate, but sure enough, I forgot. — sorry about that.
Emma loved the fries in particular.  They were a shoestring-style fry.  Yum!
The average price for a burger and fries with a gluten free bun is around $15-$16.   If you go there, I would skip the booze though.  I had a glass of wine (just their Riesling) and it was $15.99.  I should have just gotten water or a soda.
Other than that– I absolutely would take my family there again! There are several locations across the country as well. Don't forget to always double check this information when you arrive to your restaurant. Sometimes products and menus change!
If you would like to learn more about how many airports are handling gluten free, check out Gluten Free Philly's article in the current issue of Gluten-Free Living Magazine.  Have a great trip!
Other highlights from our Haiti Mission Trip:
New Gluten-Free Adventure:  Mission Trip to Haiti
Gluten-Free Mission Trip in Haiti Part 1
Gluten-Free Mission Trip in Haiti Part 2
Tags: airport, celiac, dining out, gluten-free, Miami, restaurant, The Counter, travel