It was a funny (and relatable) moment during the Oscars telecast Sunday night when  a pizza party broke out (hang with me, there's a gluten free connection coming).
To set the scene, host Ellen DeGeneres offered to bring pizza in, and Kerry Washington was one of many people who raised their hands when Ellen asked who'd eat some pizza if she ordered.
So…a while later…Ellen and a delivery man came out with pizza during the telecast and it was very pronounced from Ellen, "Kerry Washington is pregnant, she needs some."
But as a viewers watched, poor Kerry didn't get any.
Kerry tweeted:

Yup! Gluten Free and  #snacksinmypurse.  That should really be another common hashtag for we gluten free folks!  We have all felt that way before right?  Just maybe not when a billion people are watching!
So time went on and lookee here!  @TheEllenShow tweeted  "There IS gluten-free pizza!!" and Kerry replied "Yes!" and finally got her hands on some gluten free pizza in the green room backstage!!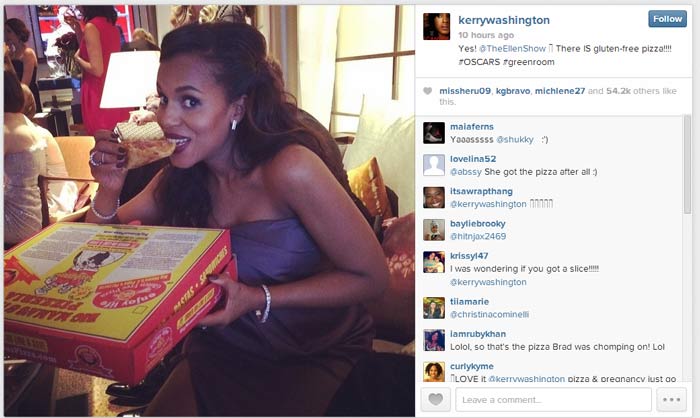 Tags: Academy Awards, celiac, Ellen DeGeneres, gluten-free, Kerry Washington, Oscars, pizza