Life has been pretty crazy around here — it happens to everybody right?  But with organizing events during race season, the 4th of July, a funeral, and our daughters' soccer games and tournaments it has been tough to get here — my apologies.  But I have to say some of my adventures in the last few weeks will help fuel this post and tomorrow's post of new discoveries.  Without further delay…..
Glutino:  Instant Baking Mix, Pretzel Chips & Toaster Pastry
Glutino asked me a few weeks back if I would be interested in trying and reviewing the baking mix and pretzel chips.  I said I was!  So they sent me two packages of each product free of charge for me to try.  The toaster pastries I went and purchased myself.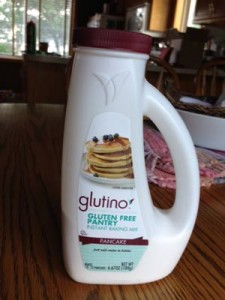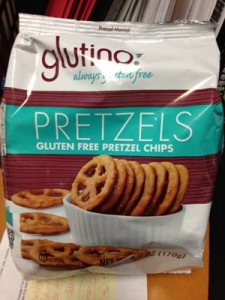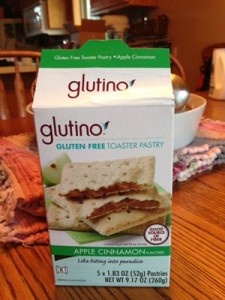 First off, the Glutino Gluten Free Pantry Instant Baking Mix. Here is a product where you just add water and voila!  Gluten-free pancakes!
Pros:
It comes in a shaker bottle– perfect for camping or if someone might be cooking breakfast for you, could significantly reduce the chance of cross contamination.
Easy! Just add water and shake! Eggs and milk are in the mix already.   See our vine video at @AmyLeger.
Kid friendly (for the aforementioned reasons)
Taste– I liked the taste and texture of them.  But I am also usually happy with any kind of carb I can get my hands on (My kids had a different opinion — see below)
Cons:
The product can cake in the bottom before the water gets there.  The directions gives tips to "hit corners if dry mix sticks.  shake again".  But that didn't dislodge it for us.  We had to take a knife and scrape it off the sides.
My girls thought the pancakes tasted "sticky".  Yes, they were cooked all the way through.  I didn't really understand their description, but my youngest daughter (Grace, 11) said it first and then when my oldest daughter (Emma, 14 who is my celiac child) agreed with her I figured they must have been onto something– even though I didn't understand it.  They ate the pancakes but didn't devour them.
I would buy this purely for the convenience during camping or staying with family who didn't have a lot of gluten-free knowledge.  This would work even if my kids didn't absolutely love them– I know they would eat them.   I saw them in the store recently for about $5.00.
Pretzel Chips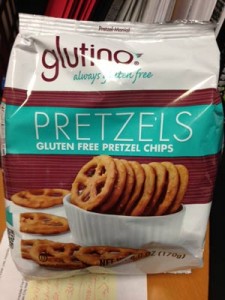 I have not seen these in the store yet.  As you know, I am not gluten free so I eat pretzel chips with meat and cheese for lunch every day. I jumped at the opportunity to try this new Glutino product.
Pros:
I really liked them and when I handed them out at work, everyone else liked them too.
 They are lighter than even their regular pretzels and have good flavor with a hint of onion and garlic.
Cons:
They are very fragile and break REALLY easily.  I had a lot of crumbs at the bottom. If you are creative you could use the crumbs for some other cooking I suppose like a breading or a filler for burgers or meatloaf.
Because of the fragility and what I actually got to consume, I am not certain they are worth the $5.00 price tag to eat them on a regular basis.  It is only a 6 ounce bag.
Glutino Toaster Pastry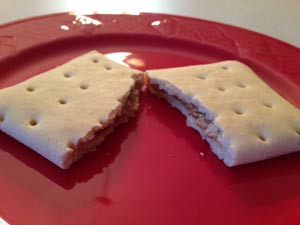 This is a long-awaited invention!  Back in the day, I used to love the "Toast Em" or "Toastettes" apple Pop Tart-style pastry and I wondered if this would be similar.  I like the apple cinnamon flavor.
Pros:
New invention!  Need I say more?
Emma, my husband and I all thought they were good!  But my husband and Emma said apple wouldn't have been their flavor of choice.  The headline here is that my husband said if he hadn't been told they were gluten-free he doesn't think he would have known any different.  And that says a lot!
I would buy these if I had a craving.  Of all the three products I would go out and deliberately buy again it would be these.  Emma is hoping for a chocolate version
Cons:
Really there aren't any.   Maybe more flavor varieties?
Cost was around $5.00 for a total of 5 individually wrapped pastries.
Tomorrow:  New discoveries in the world of cookies, chocolate and shopping!
Tags: celiac, gluten-free, Glutino