I had a crazy moment a few weeks ago when I noticed a rack of  Goodbye Gluten Bread on sale at my local Cub Foods store. The grocery store had set it out in an attempt to draw attention to the new product.  A picture says a thousand words — but it didn't take that many words in this photo to see how very wrong this sign was.
Exhibit A:  Can you spot two
areas where the sign is wrong?
Signage spotted May 11, 2013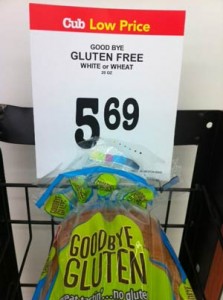 Here are the errors the way I see it (click on the image to make it larger):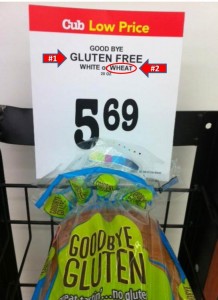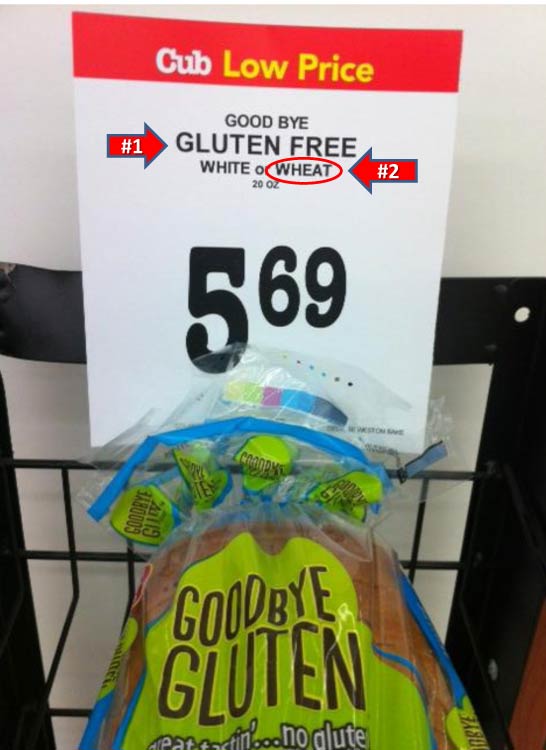 First off, the brand name is not Goodbye Gluten FREE….as far as I am concerned that could be the name of every gluteny bread on store shelves.    It is gluten free bread entitled Goodbye Gluten.
Secondly, WHEAT is NOT an option for people on a gluten free diet!  Believe me if Goodbye Gluten knew that Cub Foods had this kind of ad saying the gluten-free bread had wheat  in it, I think they would NOT be happy.
Honestly, I wasn't sure if I should laugh or cry.  That was the way a lot of the folks who commented on the picture via The Savvy Celiac Facebook Page felt too. Some thought it was funny, others were surprised, not surprised or even offended.  I can see why some folks might laugh….I did as well, but at the same time, it's mortifying, proving the lack of education of the gluten-free lifestyle within a company that in the last three or so years has really tried to capitalize on the gluten-free trend.
So I couldn't help myself, I had to get a hold of the company.  I explained that this is unacceptable.  Anyone who may be new to gluten-free diets may very well NOT by this product based on the signage.  And the sign is a twist of the knife to people who are gluten free reminding them that they can't eat wheat.
I did send my picture to the marketing brand manager who replied relatively promptly saying "The Goodbye Gluten sign has been corrected.  Thank you for alerting us.  We apologize for the mistake."
Sure enough, I saw it Monday in all its glory.
Exhibit B: Corrected signage
seen May 20, 2013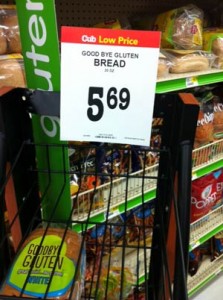 Glad Cub finally got it right.
Tags: bread, celiac, Cub Foods, gluten-free, wheat