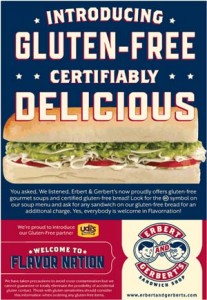 Subway has been doing its pilot gluten free offerings in Duluth for nearly a year.  Now Erbert and Gerbert's Sandwich Shop— definitely competition with Subway here in the Midwest– is one-upping them as they roll out their gluten-free sandwich menu.
Monday, the sandwich chain announced the unveiling of it's gluten-free sandwich menu.  It says while you can get any sandwich gluten-free for an extra charge, they are focusing on the three most popular sandwiches:  the Boney Billy (classic turkey sandwich), Commet Morehouse (ham and provolone) and the Jacob Bluefinger (vegetarian).  The company says it will have dedicated equipment to avoid cross-contamination.  In an email to the Arrowhead Celiac & Gluten Intolerance Group (in the Duluth area), one franchise owner told the support group leader "Employees are instructed to change gloves in between the making of a gluten containing sandwich vs. a gluten-free sandwich. The gluten-free meats are also separate from the regular sandwich meats to avoid cross contamination."
That is all really good news!  On top of all that they have a cheddar broccoli and a cheesy asparagus soup that they have made gluten free!
Finally, be sure to ask about free delivery.  Erbert and Gerbert's is keeping the Udi's Sub Roll frozen and if they don't have any thawed when you come in there, at least in Duluth, franchise owner Al Kortz says they'll deliver it to you free!
Chuck Schwalbe, director of marketing for Erbert and Gerbert's says it "is truly exciting for our brand and franchisees, but even more importantly for those who suffer from celiac disease or choose a gluten-free lifestyle."
Most Erbert and Gerbert's shops are located in Minnesota and Wisconsin.
I have not had a chance to talk with the company first hand. I wanted to get this info out to you soon! It sounds like it could be worth a try!
Tags: celiac, dining out, Erbert and Gerbert's, fast food, gluten-free, restaurant, sandwich