How sweet it is!  Governor Mark Dayton signed a proclamation making May Celiac Disease Awareness Month in Minnesota!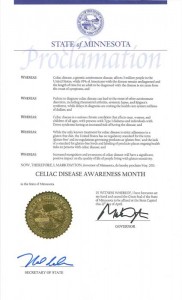 You can see the entire content of the proclamation on the Twin Cities ROCK website, but here's one quote from it:
"Whereas: While the only known treatment for celiac disease is strict adherence to a gluten-free diet, the United States has no regulatory standard for the term 'gluten-free' and no regulations governing products as 'gluten-free' and the lack of a standard for gluten-free foods and labeling of products places ongoing health risks to persons with celiac disease…."
I love that this is another boost for celiac awareness in this state!  We need to work hard to get the awareness out there because so many people have celiac, don't know it and are needlessly suffering. According to the proclamation 3 million Americans have celiac and 95% are undiagnosed.
Greg Abel said today in a news release by Twin Cities ROCK,
"We are so excited to have Governor Dayton and the State of Minnesota recognize Celiac Disease Awareness Month for May. This brings state-wide attention to a disease that is affecting so many Minnesotans as well as Americans. We hope our event on May 21st will raise additional awareness and research funds toward this important cause."
Abel is speaking about the 10th Annual Walk/Run for Celiac Disease which happens in Victoria, Minnesota on Saturday, May 21st.  You can find out much more about that event by clicking here.
You can see the pdf of the proclamation here, although it's sideways it is pretty!
Tags: celiac disease, gluten-free, minnesota