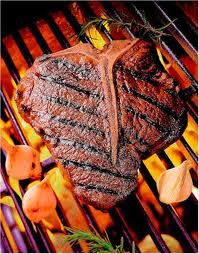 This is an interesting question to me, something we had never worried about with Emma.  Meat is Meat right?  Some people will say yes, many will say no.  But the question was recently asked on my Facebook page if grain-fed meat was considered gluten-free…and I figured the research was easy to find online – boy was I wrong.
So I went searching for some answers and I quickly found out I couldn't do a post on the gluten-free angle, without at least mentioning the health benefits debate.
Grass-Fed vs. Grain-Fed Meats
So in researching this topic, I cannot find any unbiased opinions about the subject.  In fact, when I type "health benefits of grain-fed beef" into Google only grass-fed information comes up. So here is a little background:
A 2003 story from the University of California Agricultural and Natural Resources Department,  highlighted a "study to promote the benefits of grass fed beef".
"Their report concluded that ranchers who produce grass-fed cattle may rightfully claim the product is more healthful than conventionally produced meat.

The report says that three ounces of ground beef from cattle fed conventional diets contain about 41 micrograms of beta-carotene and a typical rib eye steak has 36 micrograms. In contrast, meat from cattle fattened predominately on ryegrass has almost double the beta-carotene, 87 micrograms in 3.5 ounces of ground beef and 64 micrograms in a steak."
According to sustainabletable.org, many of these grass-fed, pasture-raised cattle are healthier for us to eat because of their lifestyle with open fields on which to graze.  But  for cows that  are raised on industrial farms, the website said "These stressful conditions are a breeding ground for bacteria and the animals frequently become ill, so factory farms must routinely treat them with antibiotics to prevent outbreaks of disease."
And there is a difference at the checkout counter, in the aforementioned 2003 article form U of California,
"Grass-fed hamburger meat sells for about $1 more per pound. Steaks are sold at about double the normal price – about $7 more per pound than ordinary beef," said Glenn Nader, UC Cooperative Extension livestock and natural resources farm advisor in the Sutter-Yuba County office and the leader of the project.
I wish I could find something concrete that gives you the other side to grain-fed meat, but I just can't find anything…other than the population of folks who say that they prefer the taste of grain-fed over grass-fed beef.
Again the debate over the health benefits is separate from the gluten-free issue.  You can take the above information and any additional information you find on the health benefits and make your own educated decision.
So Is Grain-Fed Beef  Gluten-Free?
Again there's no research supporting whether grain-fed beef  is or isn't safe for people on the gluten-free diet.  Forums like this one on celiac.com have debated the issue with no major concrete resolution.  So I had to tap the awesome expertise of Registered Dietitian and Gluten-Free Expert Tricia Thompson.  I asked her –"Trying to research if grain-fed beef is gf? Do you have any info on that?" and her response to me was exactly what I was looking for –an explanation!
"Grain-fed beef is fine. Before protein is absorbed it's broken down into single amino acids or very short peptide fragments-no longer gluten." — Tricia Thompson MSRD
So please feel free to make your decisions on your butcher meat based on price, quality and sustainability — or whatever your criteria is to pick your meat– and delight in the fact that this time the criteria doesn't have to include gluten-free.