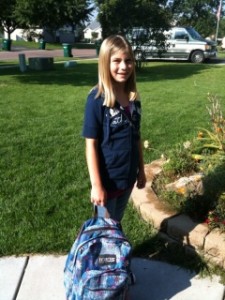 School starts Tuesday.  I'm ready, my kids are ready and — so are their teachers.  In a recent post, I talked about the fearful and confused looks I often got when discussing celiac disease with teachers at open house.  Turns out I had a completely different experience at open house this year.
Emma, who has celiac, is going into fifth grade this year.  The new thing about her grade is that they'll be changing between three classrooms (one step closer to junior high classroom changes).  So I met her main homeroom teacher (who's also teaching math) first. Then I met the other two who will be teaching other subjects.
All three told me they had received an email about Emma already.  The email apparently explained that she has celiac and can't eat gluten. One teacher said to Emma, "the email said you know how to handle your diet pretty well…" Emma nodded in agreement.  I handed over my trusty "celiac disease survival guide" to each of them — they all said they were expecting I would be handing them this information — again per the email.
At first glance I hope the email wasn't warning them about the freaks with celiac…but in retrospect, I don't think that's the case.  I actually left the open house feeling total satisfaction that the teachers were open to her "gluten-freeness" rather than fearful.  The "preview" email sent out helped launch the conversation so much more easily than in years past.  It was a great idea– thank you.
Speaking of successful open houses– Jens Gluten Free Blog has it's own tale of a successful orientation!