Time for another gluten-free product taste test and giveaway! This time for a box of Rosemary Flackers.  The Flackers are made by a Minneapolis-based company called Doctor in the Kitchen; and they come in three flavors: Rosemary, Savory and Dill.
Product Review:
The crackers are quite thin, with both whole organic golden and brown flax seeds pressed tightly together. The great things about this cracker are the flavor and the nutritional qualities. I thought the Savory flavor was the most neutral of the three. Neutral doesn't mean bland. It definitely has a flax seed flavor with some kick that comes from chili pepper, basil, garlic and onion. I think if I were picking out a Flackers cracker to go with dips, cheese and such, I might pick a more neutral cracker and for me, this one is it.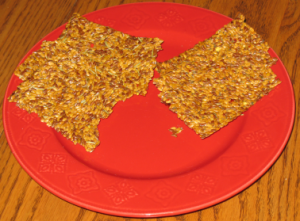 Rosemary definitely had the rosemary taste to it plus flavorings from sage. The Dill was the spiciest to be sure. You can see the red chili peppers in the cracker. The cracker also isn't so dry it sucks the spit out of your mouth. I've had a few encounters with gluten-free crackers that do this.
Nutritional qualities: Talk about a snack that is filled with all the right things: Right on the box Flackers claims having 2280 mg of omega 3 fatty acids, 570 mg plant lignans, 5 g protein, 7 g fiber per serving – and gluten free! Allie Mentzer of the Linden Hills Co-op tells me although the cracker is made with whole flax seeds, you still get the nutritional benefit, "…they soak their flax seeds before dehydrating them. So even though they're whole, they're easily digestible and omegas are absorbed by the body…."
But how do they taste?  I found people who loved them and didn't care for them so much.  My friend Steve  thought they were great. After trying one, he wanted another. He said to me, "You can taste the flax…and it's spiced up!" Another friend told me, "I especially love the rosemary ones. I like the satisfying crunch. I like that they're very filling but also extremely good for me-a healthy snack." She buys them often and even crumbles them on her salad.
I did try them…keep in mind that I am a plain kind of girl, living with people who like plain kinds of food, these crackers were not for me. I tried them with and without cheese.  Overall, the flax seed was too strong for me. I also checked with my neighbor. "I like flax seed, and I didn't like them," my neighbor told me. "I love things with flavor and texture, but in this case the flax seed already has a distinct flavor…so I was surprised at the flavors they chose. I thought they would pick a flavor that was more popular." Her suggestion: sea salt and pepper?
As a parent, I would say these crackers are much more for adults than they are for children. It's not that children can't eat them; I just think the texture and flavors lend themselves to an adult palette. My 10-year-old daughter and 17-year-old exchange student did not like them. JAlso, the box does note that they are made in a facility that also produces products with nuts, dairy and wheat.
Check out the Linden Hills Co-op in Minneapolis to find out how you can buy some or just to get more information.  They cost about $5.99 per box. The drawing for a free box of Rosemary Flackers happens 24 hours from the time this review is posted. I will email the winner to get the mailing address as well as post the name of the User Name of the winner on Thursday!
Tags: crackers, Flackers, giveaway, Linden Hills, review, taste test