Welcome to The Savvy Celiac. Where we help smart people become savvy gluten free consumers.

Every day news is made regarding celiac disease and its only treatment: a gluten free diet. Whether it is information about gluten free foods, recipes, scientific research, school tips, eating out, or the basics about the disease symptoms that come with having celiac, we talk about and report on it here using reliable sources and key experts to create great content.

If you have celiac disease, a non-celiac gluten sensitivity or are eating gluten free for other reasons, our one goal is to empower you with information to live a healthy gluten free life.

Researchers are learning more about how the gluten free diet could help Inflammatory Bowel Disease Patients.
Read more...

All-Star Game, USA Cup, 3M Championship…there is a lot is going on in the Twin Cities this month. But where to go for a great gluten-free dining experience? Here's a list that could be helpful to you.
Read more...

New research into why some children get celiac disease and others don't sheds new light on celiac, children and when doctors should test for it.
Read more...
The term Celiac Disease Autoimmunity came across my desk this last week. Am I the only one who hadn't heard of this before? People with it need to eat gluten free so why not just call it celiac disease? So I did a little investigating for clarification.
Read more...

We know you need the gene, gluten and a trigger for celiac. What about smoking and celiac? Researchers looked at it as a possible trigger.
Read more...

Chex just came out with its answer to gluten free oatmeal. Why this product could help bring gluten-free oats to the masses.
Read more...

There are items that are gluten free at Smashburger. But after talking with the company, you will want to be cautious, cross contamination could be an issue.
Read more...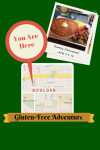 Boulder, Colorado. I went there recently and was told that it was a great place to eat gluten-free. When I arrived, I looked into restaurants that had options for gluten free in Boulder. Here's what I found after stopping at a few restaurants there.
Read more...

Overweight or underweight? Some doctors may more quickly test an underweight child for celiac. New research looks at a celiac diagnosis and weight. Is weight a possible indicator for celiac in kids?
Read more...

A great conversation about celiac with The Daily Show's Jon Stewart and Jennifer Esposito. So important at a time when there is a lot of gluten-free negativity around.
Read more...